>

NBCUniversal and HTC Join Anzu's In-Game Advertising Mission along with Sony Innovation Fund and WPP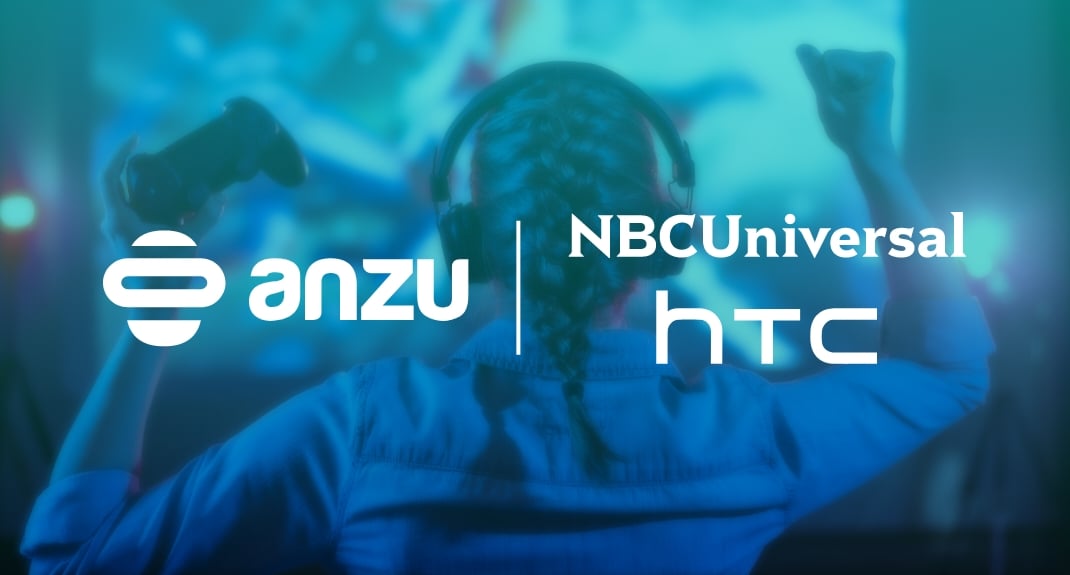 NBCUniversal and HTC Join Anzu's In-Game Advertising Mission along with Sony Innovation Fund and WPP
Anzu.io closes its latest funding round with $20M, adding one of the world's leading media and entertainment companies NBCUniversal, and global consumer electronics and technology company HTC to its growing list of strategic investors.

Today, Anzu announces that the world's most advanced in-game advertising platform has closed its current funding round with $20M, increasing its total capital raised to $37M since 2017.

Anzu received funding from two of the world's leading brands. The first, NBCUniversal, is one of the world's leading media and entertainment companies. The second, HTC, is a consumer electronics company known for producing some of the world's most popular VR products and software and has recently revealed the 'Viverse', its place in the metaverse.

The funding will further embolden Anzu as it continues its work as the world's most advanced in-game advertising platform. Earlier this month, the company announced a game-changing partnership with NBCUniversal which will allow the brand's marketing partners to run non-intrusive, in-game ads across Anzu's cross-platform gaming inventory, which spans mobile, PC, and consoles, using interactive, contextual, and programmatic in-game advertising solutions with privacy and brand safety at its core.


"Everyone is talking about the impending metaverse, and we are starting to see it emerge from several different angles. However, if you want to see it in action right now, you just need to look to today's most popular gaming platforms, which are hosting virtual concerts and film screenings.

This funding will further expand our in-game advertising solution, helping even more advertisers understand where their brand fits in, and how they navigate these immersive, digitally-connected spaces."

- Itamar Benedy, Co-Founder & CEO, Anzu
"Combining Anzu's technological prowess in the gaming and esports space with NBCUniversal's client reach and advanced advertising solutions, together we can reinvent the future of in-game advertising with brand safety and creativity at the forefront.

Anzu understands the importance of integrated advertising and by working directly with video game publishers, NBCUniversal can help marketers create engaging content that enhances the gamers' world."

- Krishan Bhatia, President & Chief Business Officer, NBCUniversal
"With the arrival of the metaverse, the way that people communicate, interact, and spend is going to evolve. We are excited to assist in bringing this new dimension to digital marketing services, providing safe and private user experiences while enabling brands and developers to bring more creativities and new monetization models in the metaverse."

- Joseph Lin, VP Content & Platform, HTC

Other investors include WPP (for the third time), Sony Innovation Fund, BITKRAFT Ventures, HBSE Ventures, Alumni Ventures Group, the iconic baseball team The Chicago Cubs, Goal Ventures, and a prominent angel investor Marc Merrill, the Co-Founder, Co-Chairman, and President of Games at Riot Games. As with the previous round, all investors will act as strategic partners, while Anzu will remain an independent company.

"I am proud to have iconic investors who share in Anzu's vision and enable us to bring in-game advertising and our best-class tech to more gaming platforms and global brands.

Our last investment round helped us achieve some monumental milestones, including bringing in-game advertising to gaming metaverse platforms, becoming the first advertising platform to be verified by Unity, extending our partnership with Ubisoft, and launching new partnerships with leading games studios, including Saber Interactive for its AAA game Dakar Desert Rally.

We also brought first-to-market in-game viewability with Oracle Moat and partnered with Human and Comscore to help improve IVT across gaming platforms. Anzu's recent direct integration with The Trade Desk has also helped expand our solution to more advertisers."

- Itamar Benedy, Co-Founder & CEO, Anzu
The company has also been recognized within the advertising industry as a force to be reckoned with, picking up multiple awards, including Best Tech Platform at The Drum Awards and Best Gaming User Monetization Technology at The Wires.


This article was originally published on March 30, 2022 on PocketGamer.biz.


SIGN UP FOR OUR NEWSLETTER