>

Anzu Becomes Exclusive In-Game Ad Tech Provider for Saber Interactive's Dakar Desert Rally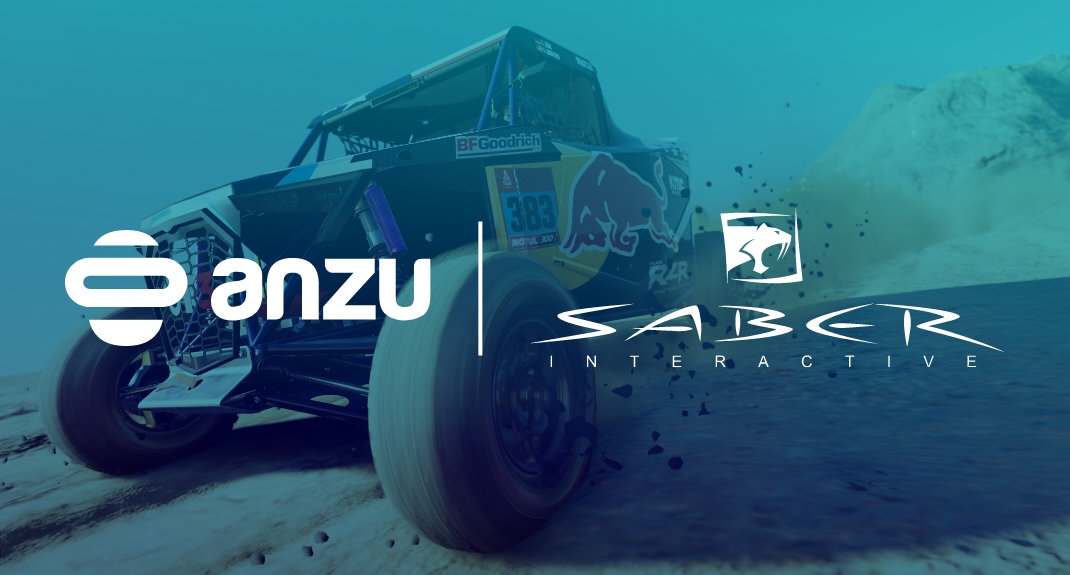 February 17, 2022
By Anzu
Anzu Becomes Exclusive In-Game Ad Tech Provider for Saber Interactive's Dakar Desert Rally
In-game advertising company Anzu has secured an exclusive deal with Saber Interactive, the global game publisher and developer, to offer advertisers a chance to communicate with their audiences via the highly anticipated upcoming racer Dakar Desert Rally.
The new AAA title is the official game of Dakar Rally, the largest rally race on the planet, hosted by the Amaury Sport Organisation and broadcast each year across 70 TV channels in 190 countries. 1,065 drivers and 578 vehicles took part in 2021's race, and clips of the rally have been viewed online by over 59.8M people, with an additional 76.8M Facebook and Instagram story views.

Fans worldwide have been anticipating news of a new official Dakar rally video game title. This past December, Saber Interactive revealed that the title would launch in 2022 and feature an enhanced Dakar rally experience with over 30 stages of full rally racing, an immense open world with seasons and dynamic weather, official road books to navigate, and a garage stocked with licensed vehicles, including motorcycles, cars, trucks, quads, and SSVs.

The game's development team is committed to creating an immersive game experience that faithfully brings the Dakar Rally to gamers. Anzu is helping the team replicate that; advertisers will be able to run their banner and video ads within Anzu's in-game ad placements, which will take the form of 3D objects like roadside billboards and banners. They will also be able to take advantage of a variety of custom integration options, including custom vehicles that can be painted with brand colors and logos, and even have the driver wear a custom uniform. There are also options for roadside flags that can be branded with a product logo and different colors, and garage takeovers, where brands can add custom wall banners and items to decorate the building.

The non-disruptive nature and expert optimization of Anzu's ad placements also mean brands will benefit from extremely high engagement rates without disrupting the player experience. Advertisers will also benefit from the low fraud rates associated with in-game advertising. HUMAN reports that Anzu's IVT score for mobile is 0.16% and for PC is 0.47%. Comscore also reports a 0.39% score for video and 0.44% for display campaigns, compared to a 6% benchmark. Anzu also works with other industry leaders to measure ad viewability, fraud levels, and brand impact.
"We've been working closely with Saber Interactive to ensure our ad placements are perfectly positioned to enhance both the player and advertising experience. This is a great opportunity for advertisers to showcase their campaigns in a visually stunning AAA title, and for players to experience races with real ads that are relevant to the setting alongside the track. Just like they would expect to see if they were watching a real race, making the experience all the more authentic.

More and more advertisers are making in-game advertising a larger part of their digital ad strategies. As the anticipation continues to grow around this title, we're looking forward to bringing many into the Dakar experience to reach its millions of diverse and dedicated fans who stretch across the entire globe."

- Alex Yerukhimovich, VP Games, Anzu
"Our Saber Porto team has been passionately working on Dakar Desert Rally and is focused on making this one of the biggest and most authentic rally racing games ever," said Todd Hollenshead, head of publishing at Saber Interactive.

Our goal is to bring Dakar to life in a realistic and fun way, and it's been great to see that passion mirrored by the talented team at Anzu through their industry-leading technology and expertise. We're working closely together to ensure these ads are implemented in a way that is immersive and serve to help faithfully recreate the real-life rally experience."

- Todd Hollenshead, Head of Publishing, Saber Interactive
This article was originally published on February 17, 2022 on ExchangeWire.
SIGN UP FOR OUR NEWSLETTER