>

What Can We Expect From 2023? Anzu Experts give their In-Game Predictions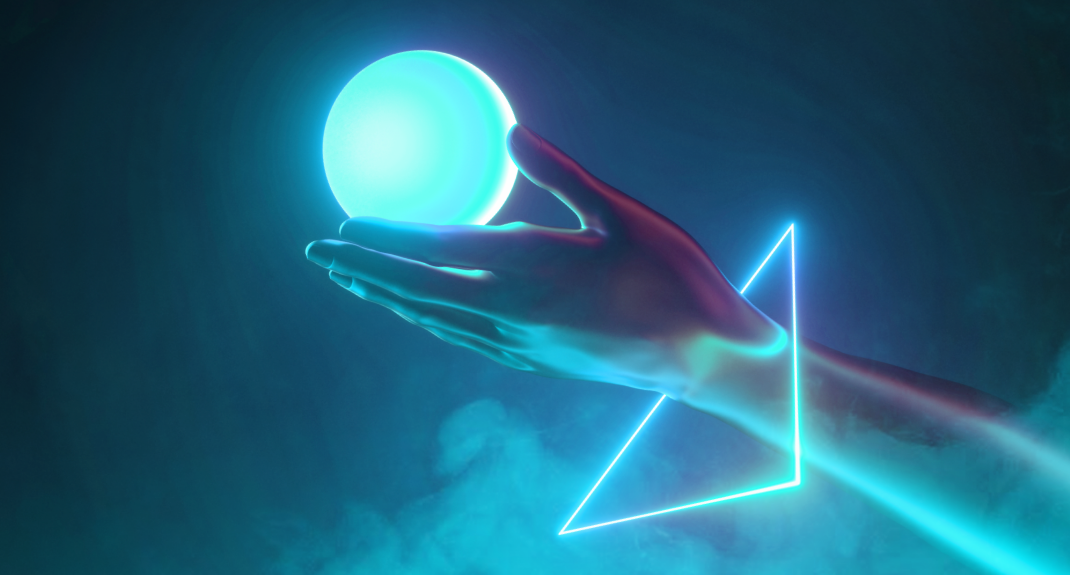 December 15, 2022
By Anzu
What Can We Expect From 2023? Anzu Experts give their In-Game Predictions
2022 has been a year of revelations in advertising. From new advancements in cloud gaming to the ever-increasing rise of the metaverse, and, of course, the continued uptake and standardization of in-game advertising, the year also saw many successful campaigns from global brands within video games.
With 2023 around the corner, there's never been a more exciting time as a company to be straddling two of the most rapidly-changing industries in the world — advertising and gaming. In the run-up to the new year, we asked experts across Anzu for their predictions on what trends we can expect to see in 2023.
In-game advertising will continue to grow in 2023
With the global in-game advertising market set to generate almost $14 billion between 2021 and 2028, and research showing that 7 in 10 gamers are positive or neutral towards in-game advertising, it's no surprise that in-game ads are becoming more and more prevalent. "AAA and indie game developers alike will rely much more on SDK-based solutions like Anzu," predicted Anzu's Publisher Growth Team Lead, Maor Wurembrand, "as it will help brands and their budgets easily get into their gaming experience and rely less on direct activations.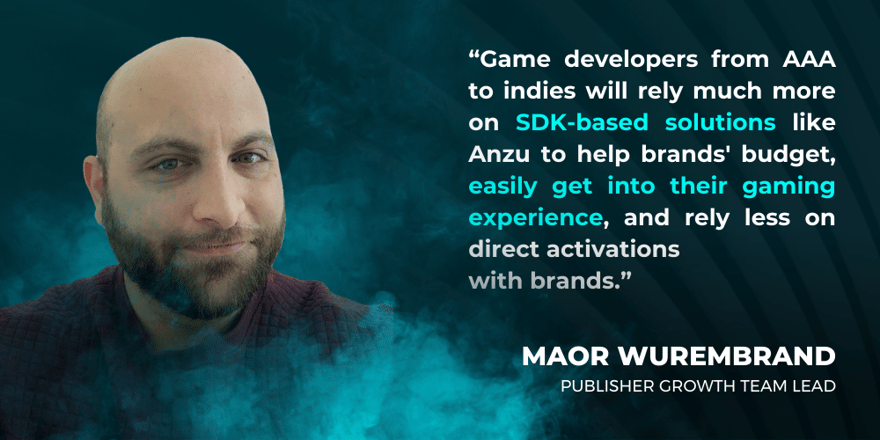 Brands and media agencies will continue to include and expand in-game advertising within the media mix of their campaign strategy," Wurembrand continued. "This will include a more focused mix of upper-funnel and lower-funnel types of campaigns, targeting similar games and audiences accordingly."
Hendrik Menz, Anzu's Brand & Agency Sales Director, elaborated further on this point, looking towards a challenging year ahead. "Economical and societal challenges in 2023 will continue to demand the highest flexibility from advertisers and their media consultancies. Paradigm changes in media consumption — along with increasing brand safety and suitability concerns in both contextual and demographic campaign distribution — will lead to tremendous additional opportunities to activate brands safely and efficiently within the walled gardens of gaming environments. Ad technology to leverage these new and gigantic entertainment galaxies has arrived, and will continuously attract more mainstream media spenders."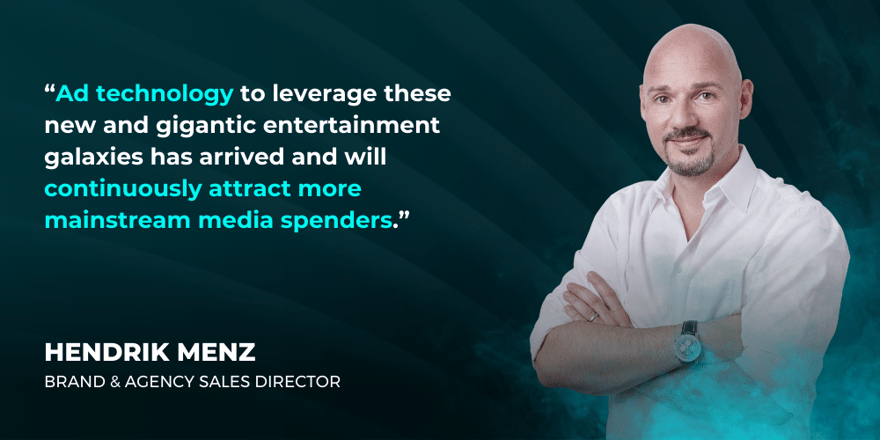 F2P/freemium will become a big business model shift for gaming
Free-to-play (F2P) games are becoming more and more popular, with titles like Genshin Impact dominating the gaming scene and remaining one of 2022's most-played titles across multiple gaming platforms like PC, mobile, and console. The F2P gaming market is expected to reach $24.5B in 2023, a 6% increase compared to 2021, which could result in a huge shift in the gaming industry to find new ways to monetize within their upcoming titles.
"I expect more gaming and streaming companies to present freemium models of playing," said Anzu's Head of Technical Operations, Erez Attali-Zelzer, "whether it's with in-game purchases and ad-supported games, or with subscriptions as we've seen with Xbox Game Pass and PlayStation Plus."
PlayStation Plus' three-tier subscription service boasted over 45.4 million subscribers as of September 2022, while Microsoft confirmed over 25 million subscribers to its Xbox Game Pass service earlier this year. As a result, more and more gamers have access to premium AAA titles through these subscription services, without having to fork out $70-$80 apiece for each individual game that hits the shelves.
"This should allow us to connect more AAA games to Anzu and provide them with a user-friendly monetization solution," Attali-Zelzer continued. "With less money from traditional game-purchasing, non-intrusive ads can become the main revenue channel."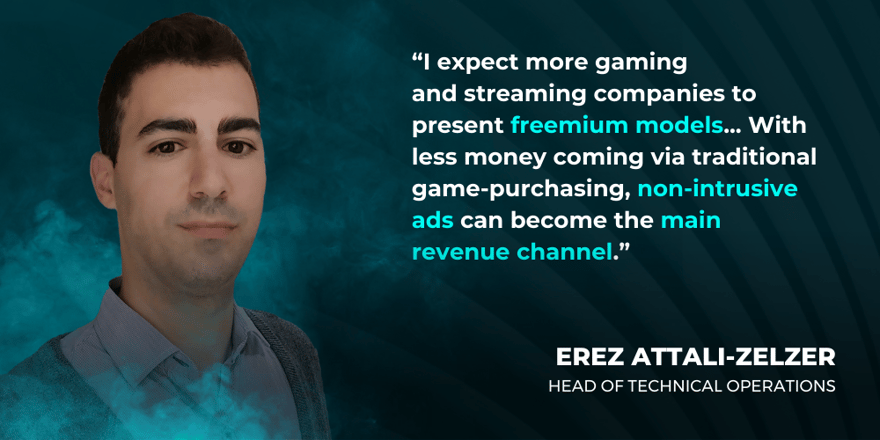 2023's dramatic switch to programmatic
While programmatic in-game advertising is by no means a new venture for the advertising world, it is definitely up for significant gains in 2023, according to Attali-Zelzer. "Google and Facebook will lose a significant market share to programmatic channels (such as Xandr, Yahoo & The Trade Desk). As the digital advertising market becomes a safer and more verified place — with IVT, ad quality, and viewability measurement — advertisers will be more confident spreading their budgets to reach new audiences programmatically, such as within gaming."
Aditi Ramesh, Anzu's Director of Programmatic US, agrees. "We're absolutely going to see consolidation pick up as companies strap together plans on how to integrate their platforms. Through that, we'll see new partnerships and closer relationships form between agencies and game developers. We'll continue to form a path and carve out seller-defined audiences to make contextual and audience targeting possible in-game."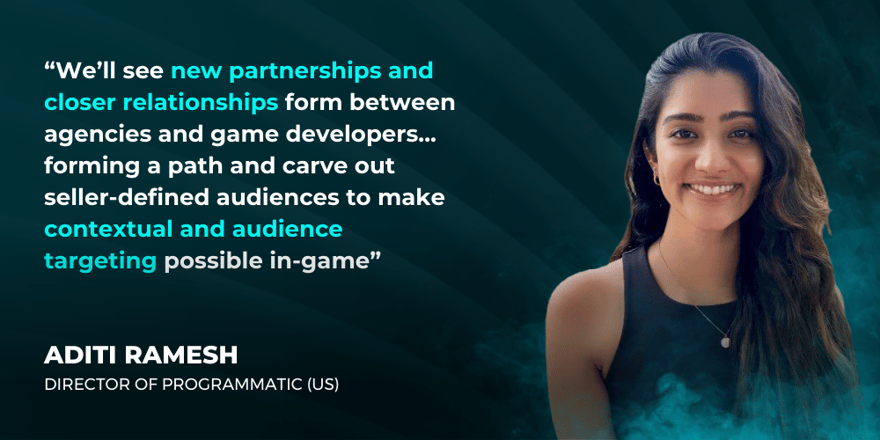 The ongoing impact of new measurement guidelines
One of the advertising industry highlights of 2022 was the release of the new in-game advertising guidelines from IAB and MRC, the first reiteration of its kind since 2009. Gaming has come a long way within that time period — just compare FIFA 09 to FIFA 22! — and as technological improvements arise, so do the capabilities within in-game advertising.
"I expect to see more standardization of the in-game ad format in terms of measurement and signals," shared Yaniv Rozencweig, Anzu's VP of Programmatic. "More DSPs need to allow their buyers to access in-game as a direct result of advertisers' demand. In-game will become a part of any digital campaign strategy as buyers will understand the advantage of this medium in terms of user attention and engagement compared to any other format."
With new standards within in-game advertising, brought about by third-party verifications, benchmarks, and measurements taking the guesswork out of in-game advertising, brands can gain more confidence in shifting budgets from traditional web and in-app ad mediums towards in-game.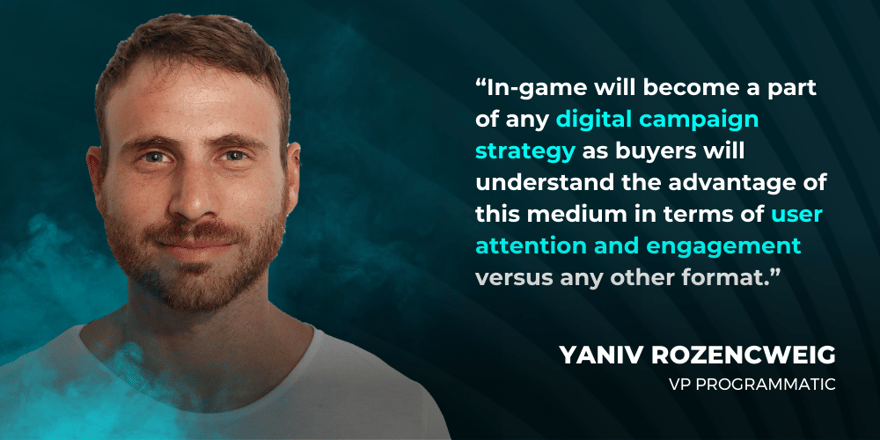 Are Anzu's predictions on the money for your brand or game monetization strategy? Inspired to begin 2023 afresh with an exciting new opportunity in in-game advertising? Get in touch with the Anzu team to kickstart your journey today.
SIGN UP FOR OUR NEWSLETTER