>

MAD//Fest 2022: An Authenticity Extravaganza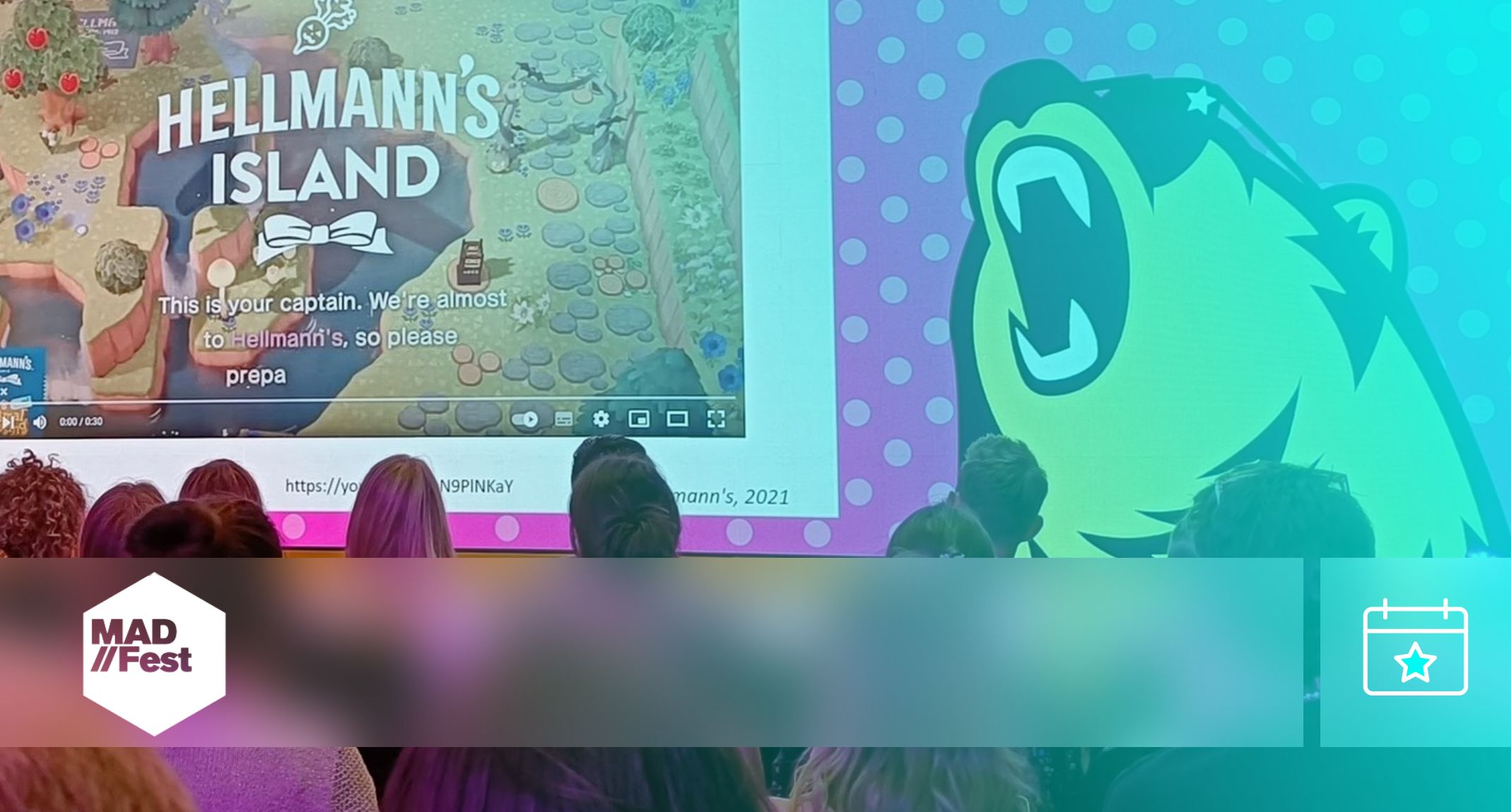 MAD//Fest 2022: An Authenticity Extravaganza
MAD//Fest opened its doors again this year to thousands of advertisers from every corner of the UK and beyond. For those unfamiliar with the event, it's a UK-based marketing festival hosted annually in London. Advertisers far and wide descend on the capital for networking, workshops, talks, and mingling.

MAD//Fest says they aim to 'challenge norms + cut out the crap out of industry events', so naturally, the majority of talks were focused on the now, looking at insights, learnings, data, and success stories. This was a welcome change from the metaverse, NFTs, blockchain, and other future-facing technologies which have taken center stage at most advertising events over the past year.



No Guts No Glory
2022's event was focused on bravery, with the tagline 'No Guts No Glory' plastered across the festival's walls. However, listening to many of the talks that were held, authenticity over bravery was a theme that seemed to dominate the presentations and keynote speeches throughout the festival.

A fireside chat with British comedian and author David Baddiel honed in on the idea of authenticity as he argued whether certain brands should be taking a stance on worldwide issues. He spoke about whether it was suitable for a washing-up liquid brand to be taking a public stance on immigration and how brands decide on what conversations they should and shouldn't be involved in. And whether it makes sense at all for them to be joining in.

Ian Maskall, VP of Global Marketing at Unilever, addressed this point in his keynote address, stating that for many brands, being part of broader conversations that revolve around global matters is key. He spoke about the growing awareness of looking after the planet, some of the political movements that have happened recently, and how he believes that many brands have a responsibility to step up and get involved.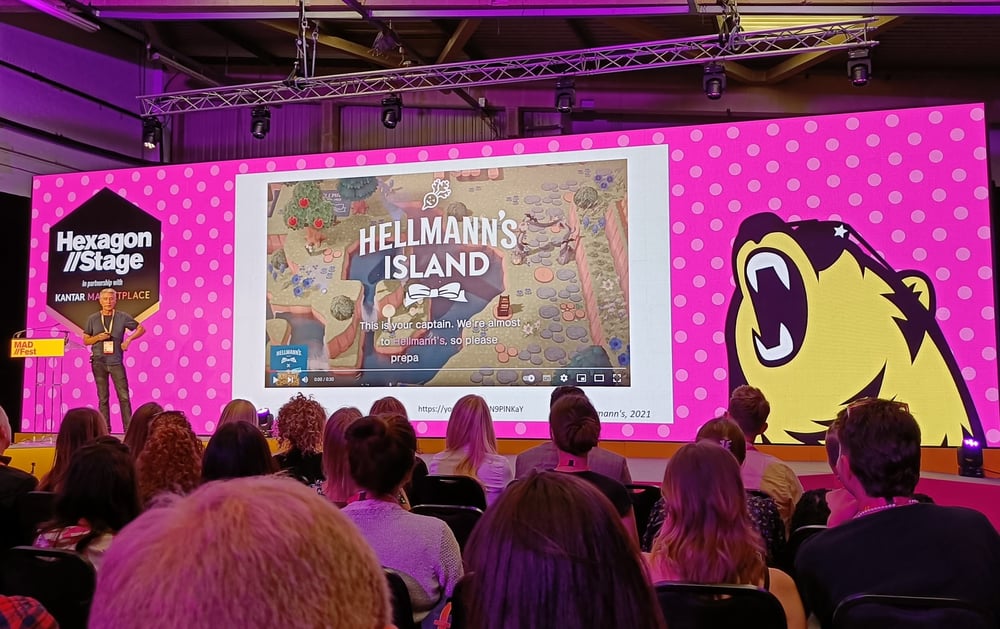 He explored gaming and how this channel can help brands naturally align themselves with world issues in playful and engaging ways. One example he showed was how Helman's, a condiment brand owned by Unilever, created an island on Animal Crossing and donated money to food waste charities every time a player visited and brought their rotten turnips to the island.

He also spoke about Vanish, a cleaning brand owned by Unilever, addressing the work the brand is doing to help curb fast fashion and the amount of waste produced each year by people disposing of their clothes. He outlined that for Vanish, it makes sense to be involved in conversations around this topic because the brand naturally fits in this space.

He also spoke about Dove, a Unilever beauty brand, and their work to help raise awareness around self-esteem, revealing a shocking statistic that 85% of girls in the UK distort the way they look online by age 13. NoDigitalDistortion is Dove's long-standing movement to help young people build confidence and positive body image on social media, with their latest ad reverse selfie, having scooped several awards recently.
At the end of his talk, an interesting question came in from the audience, saying that if Dove believes that social media is so damaging for young people, why do they use it to promote their products.

Maskall responded by saying that platforms like TikTok and Instagram are where most of us are spending our time, and to not be on these platforms they would lose out on reaching a huge percentage of their audience. He did say, however, that they use social media to amplify their NoDigitalDistortion campaign, trying to reach women where they are often most vulnerable. He also spoke about how social media is not inherently bad. It is an incredible tool. However, due to cultural pressures, the media, and other influential factors, the way we use it can often be harmful.
The power of authenticity
Sticking with social media, TikTok's Head of Creative Lab Europe, Neil Boorman, held an interesting session on the power of creativity and how brands can leverage the platform to reach billions of users. The main focus of his talk also fed back to being authentic. He showed several examples of brands who had got TikTok right, with campaigns that worked on the platform and felt natural. He spoke about the fact that brands need to understand that users don't want their experience interrupted and that brands need to be original and create their own TikToks in creative and natural ways.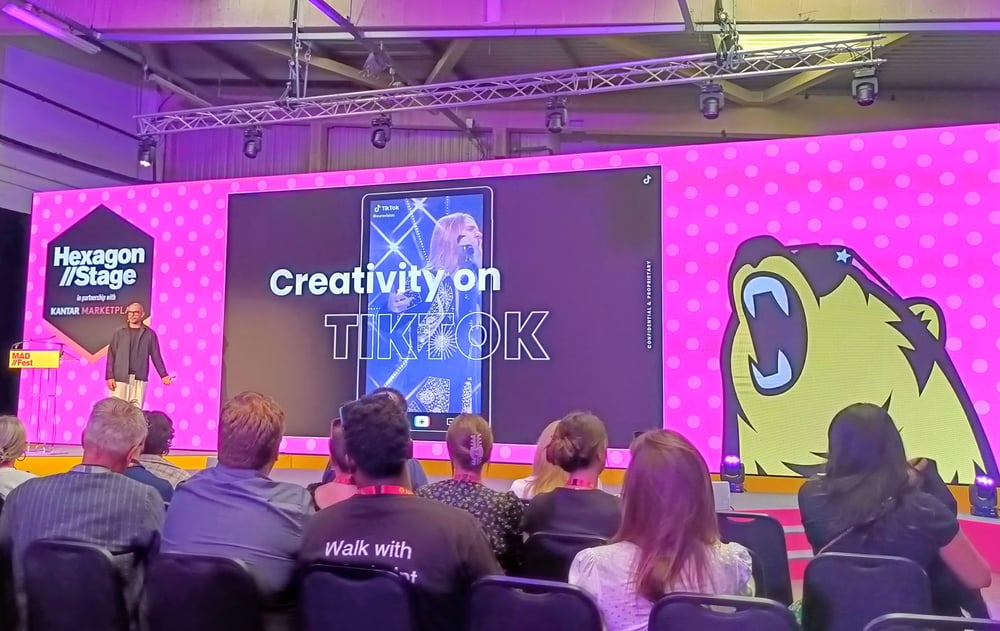 This idea of staying true to the platform and becoming part of the experience is an idea that transcends many advertising channels, including gaming. A lot of the work we do at Anzu is educating both advertisers and developers around the power of non-disruptive in-game advertising, which allows brands to become a part of the game, appearing within the environment in a way that is highly viewable, but at the same time is complementary to the gameplay.

This idea of using advertising to enhance rather than detract from the experience will only grow stronger, especially as consumers become increasingly aware of who and how they are being marketed to.
Gaming as a community
Twitch also took to the stage at this year's MAD//Fest, revealing insights from their latest research of Twitch audiences. One of the big takeaways for brands was the idea of moving from passive advertising to activations that audiences can get involved in. They played a video of a Pringles campaign entitled Zombie Frank, which had a video game zombie character taking over several famous Twitch streamer channels by turning up to their homes.

Paul Nesbitt, Director of International Insights and Measurement at Twitch, said that this was one of their most successful brand activations because it felt authentic, was different, and allowed players to engage and feel like they were part of the campaign.

Gaming presents marketers with amazing opportunities to engage with players in new and innovative ways that were previously impossible. We see more and more brands, just like Pringles experiment in this space, allowing them to think outside the traditional parameters that many ad campaigns are restricted to.

Nesbitt also spoke about consumers using Twitch to rally and spread awareness around global issues. He listed off several campaigns, including one for Pokemon GO, where players have teamed up with games studios and brands to raise money and make a real difference. This leads back to the idea of authenticity and how brands get involved in these conversations.

Nesbitt outlined that many gamers return to Twitch daily and love gaming because it is where their community lives. They love being a part of something bigger than themselves and spending time with like-minded players going through the same challenges, life stages, and decisions as they are.

It can be extremely effective if brands can find a natural way to tap into these conversations and reach these groups. Still, they need to have a reason to be there, it must be authentic, and there needs to be some level of value exchange that makes sense for both the brand and the player.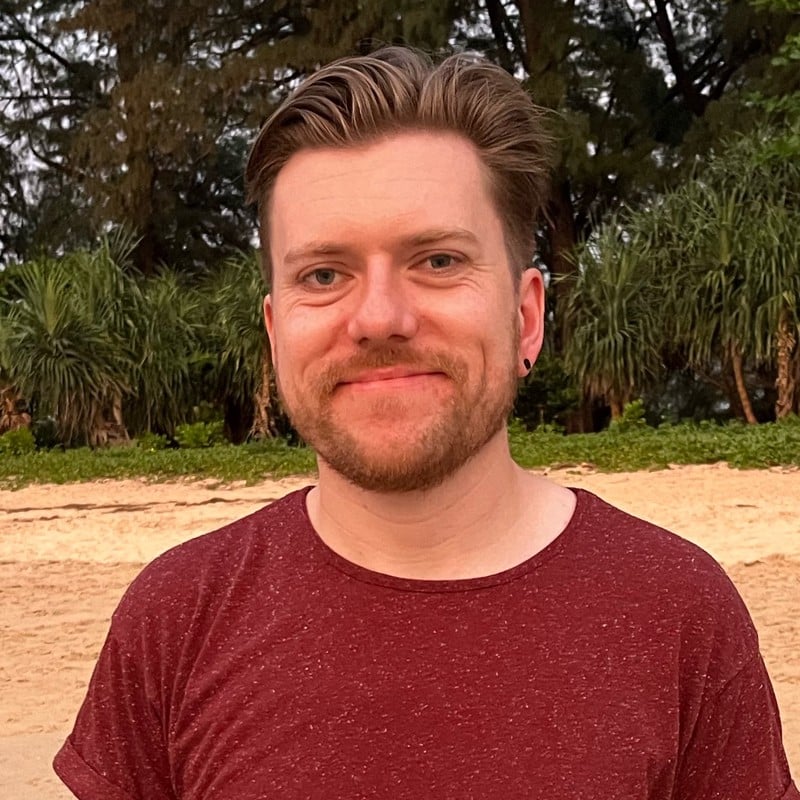 Nick works as Anzu's Content Lead, managing and overseeing the company's content strategy. As a gamer with a background working in AdTech, he has a unique perspective on the industry and the in-game advertising sector.
Nick Woodford
SIGN UP FOR OUR NEWSLETTER