>

Gamescom 2022: Highlights and Trends From This Year's Gamescom
September 07, 2022
By Anzu
Gamescom 2022: Highlights and Trends From This Year's Gamescom
Gamescom 2022 was the much-needed gaming industry wake-up call after COVID-19. Held in Cologne, the exhibition is one of the biggest and best events for video games in the world, with over 260,000 people attending to see, play, and promote video games. With such a large and buzzing crowd, it's easy to get swept up in the excitement of it and miss some of the important highlights.
To give you the low-down, we caught up with Guy Ben Dov (EVP, Business Development HD Games), Maor Wurembrand (Publisher Growth Team Lead), and Lee Ninio (PC & Console Business Development) to get their top highlights from Gamescom 2022.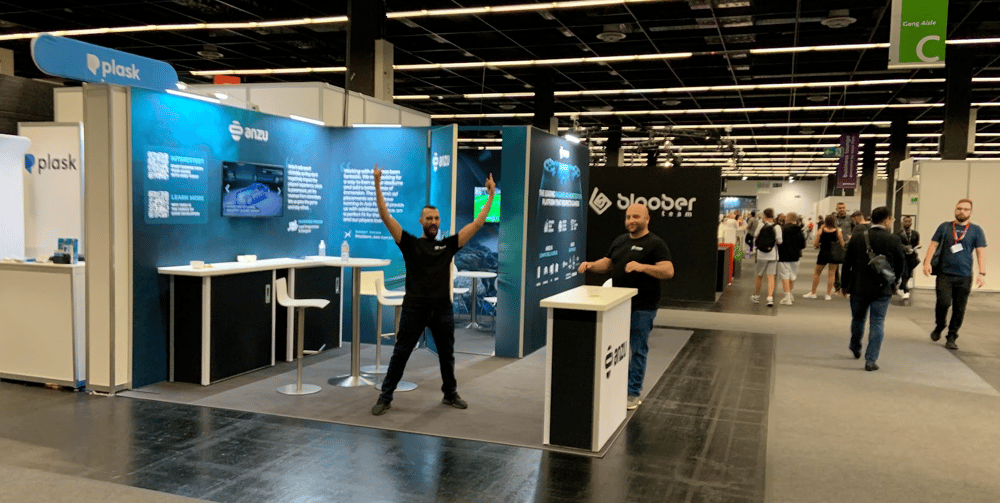 Anzu's booth at Gamescom 2022 with Alex Yerukhimovich (VP Business Development, HD Games) and Maor Wurembrand (Publisher Growth Team Lead)
Q: First off, how did you find the overall Gamescom experience this year?
Guy: The week overall was one of the most exciting celebrations of video games that we could've seen over the last few years. It was a fabulous opportunity for people all over the world to have face-to-face meetings again and celebrate. For Anzu, we were more focused on the trade side of the exhibition, so there were around 25k people in that section, with more than half from outside of Germany.
Lee: It was my first physical face-to-face event with Anzu. One week of conference felt like six months of work for me! It's amazing speaking to people, breaking the ice, and meeting with people when they're right there in front of me!
Maor: It was a 60:40 split between PC/console and mobile developers. Our demos and examples of real placement setups across games were super appreciated and noticed straight away by people passing and encountering the Anzu booth. It's great to see that our hard work speaks for itself!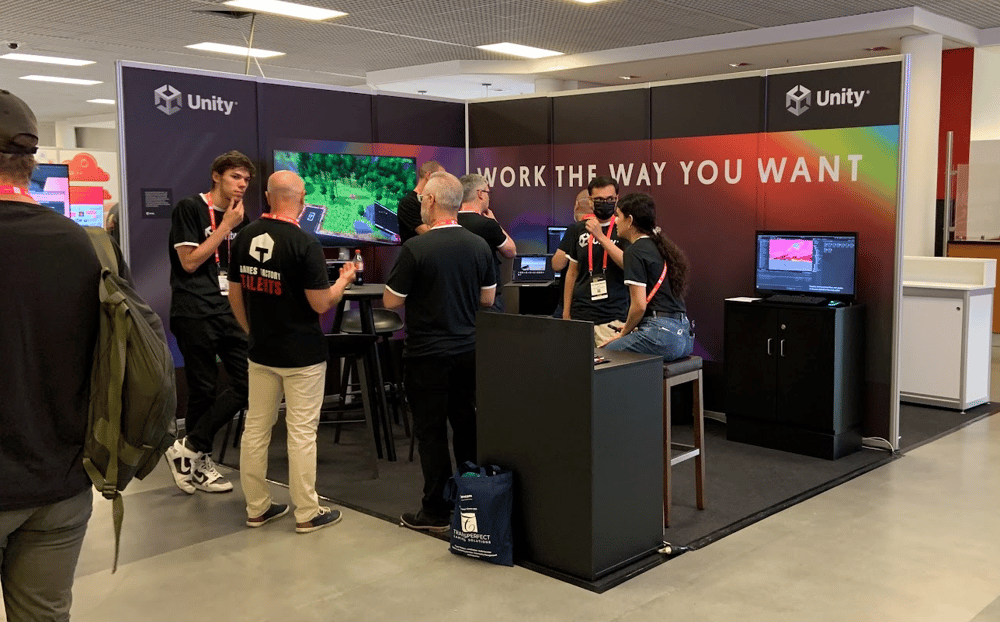 Unity booth at Gamescom 2022
Q: Did you attend the Devcom event that kicked off Gamescom 2022?
Guy: Yes! Devcom was a smaller event at the same place, with a few thousand people in attendance. It was more local, but still a great turnout of international companies, developers, and service providers.
We had meetings with lots of independent developers during Devcom, so it was extremely exciting to show them how we can help with monetization. Some of our game publisher clients earn half their monthly revenue through us with in-game ads, so it's great to share that with others who are just starting on their monetization journey.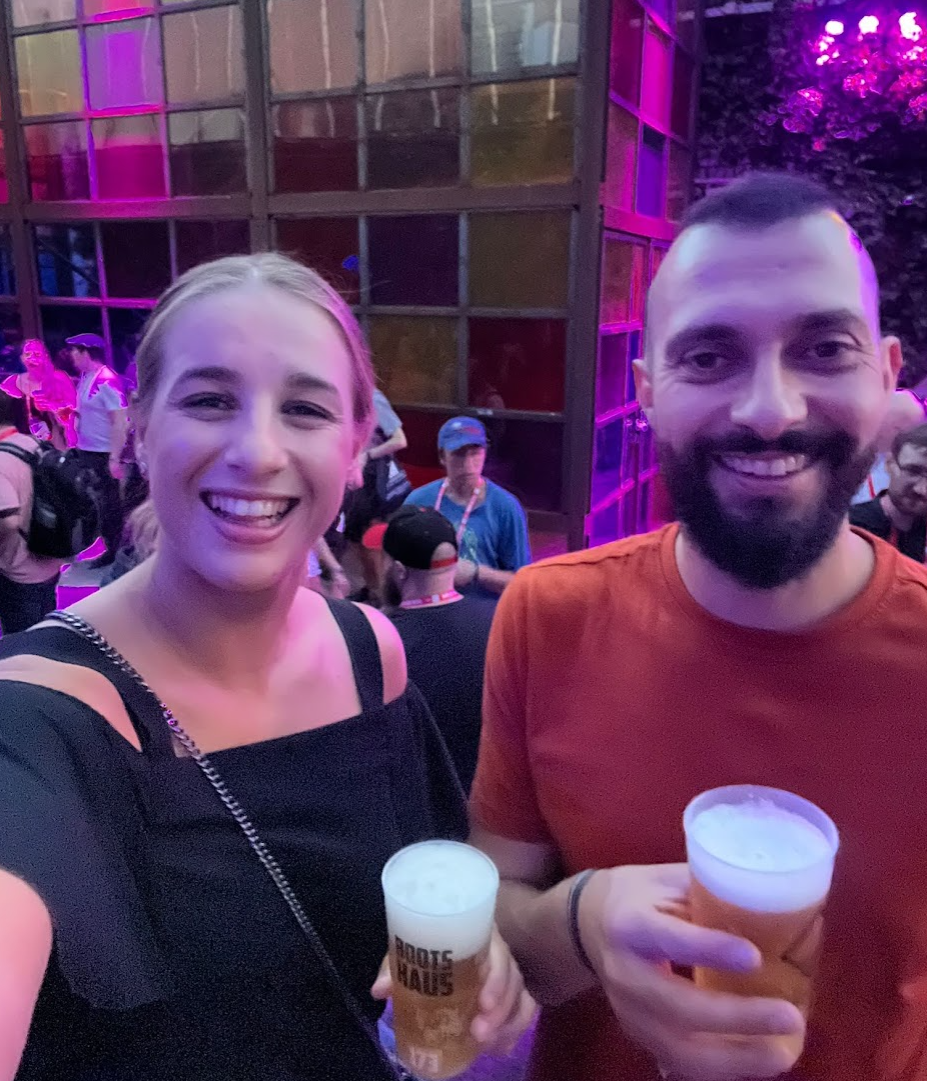 Lee Ninio (PC & Console Business Development) and Alex Yerukhimovich (VP Business Development, HD Games)
Q: Now for the juicy part; what were the biggest trends you saw at
Gamescom 2022?
Guy: Across the whole event, we noticed two main trends:
One - lots of companies are building their metaverses/Web3 metaverses. Developers are excited about creating a digital world that has blockchain based infrastructure, allowing validity, value creation based on demand and supply and accountability. Successful gaming metaverse platforms are a huge drive for every developer, as they reference these worlds and others as their influences.
Two - developers are receptive to monetization, brand integration, and in-game advertising. Developers and publishers are familiar with in-game advertising revenue opportunities. Questions about players' experience and acceptance are the core of discussions with big and small publishers. Many visitors to the booth appreciated our attention around respecting the players experience in games and the attention to details our design team provided.
In-game advertising incorporated into ad placements in a mobile game, demonstrated by Guy Ben Dov (EVP, Business Development HD Games) at Gamescom 2022.
Maor: On that first point, I've noticed an big trend of companies dealing with B2C and C2B payments through blockchain and NFT's. Many companies are getting their foot at the door to establish themselves within this space in the very near future.
Guy: The way that Anzu was presented was a fabulous show of commitment and confidence. Anzu with our media partners around the world deliver meaningful revenues to developers and publishers working with us — whether they're big or small.
With trends like the metaverse, "games as a service", and F2P PC games, developers are looking to augment revenue channels. These trends fed well into our message - "Anzu adds value to your game with native integration that supports the gameplay, is native to the environment, and monetizes your game and players."
Overall, it was a very, very exciting event and conference celebrating video games as a business and culture!
Ready to start your in-game advertising journey with Anzu? Contact us today.


SIGN UP FOR OUR NEWSLETTER