>

Mad//Fest: Rethinking the Future of Advertising and Business for a Sustainable Planet
Mad//Fest: Rethinking the Future of Advertising and Business for a Sustainable Planet
MAD//Fest is an annual advertising event that, in a few years, has become the go-to marketing conference in the heart of London. Held in Brick Lane, the three-day festival attracts brands, agencies, and AdTech professionals to network, showcase their services, and learn about the trends impacting the industry.

Although a number of themes ran throughout the festival, including attention, personalization, and of course, AI, responsible media, and the impact advertising and businesses are having on the planet was a theme that crept into almost all of the sessions.
Rethinking the way we do business
On the main stage, Arla (one of the biggest producers of dairy products) spoke about the need to rethink the dairy industry, its impacts on the planet, and where it fits in in a world that is increasingly moving away from a dairy-based diet with the growing popularity of alternatives like Oat and Almond milk. In a closing statement, they pledged to return in a year with an outline of what they had done over the past 12 months to move the dairy industry forward.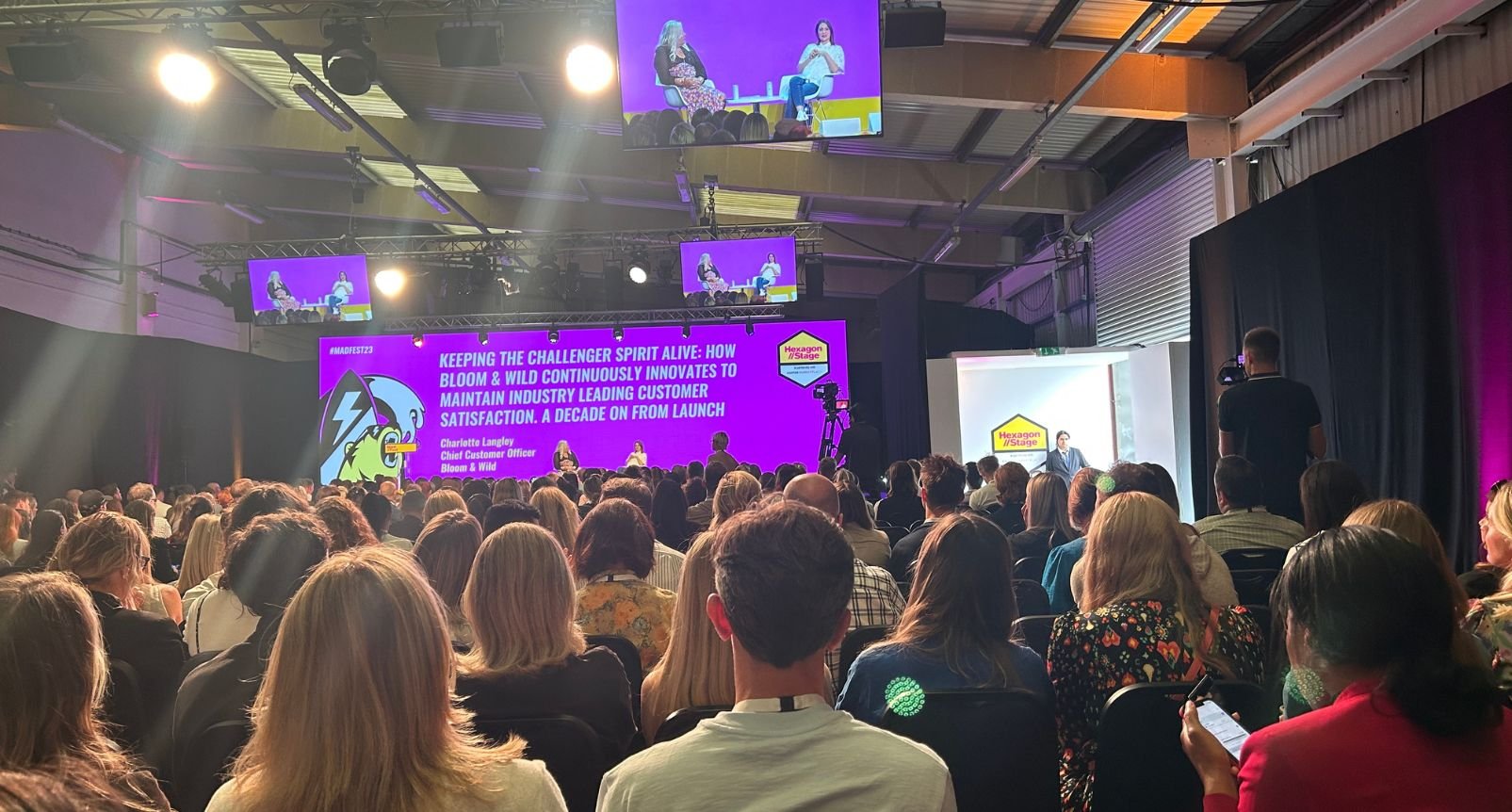 Bloom & Wild on the Hexagon stage at MAD//Fest
Bloom & Wild, a digital florist, also spoke on the main stage about rethinking the way flowers are delivered and how by boxing them, they were able to save on costs and have a smaller carbon footprint than traditional florists whose bouquets take up more room and are handled by a dedicated courier who often has to try multiple times to deliver them. They also spoke about their latest project of producing a 100% organic bouquet, which is hand-harvested and grown without chemicals, pesticides, heated greenhouses, or air miles.
It was interesting to hear how these initiatives had been driven both internally and through customer feedback and how their focus on reducing their carbon footprint and offering more sustainable products was driving business as people are increasingly looking to buy from brands who are conscious about the way they work and their impact on the planet.
The need for responsible media
These discussions weren't just held on the main stage. A whole area was dedicated to responsible media, with panels and presentations throughout the festival devoted to conscious advertising. It was clear how important this area has become for the industry as this stage was continuously packed.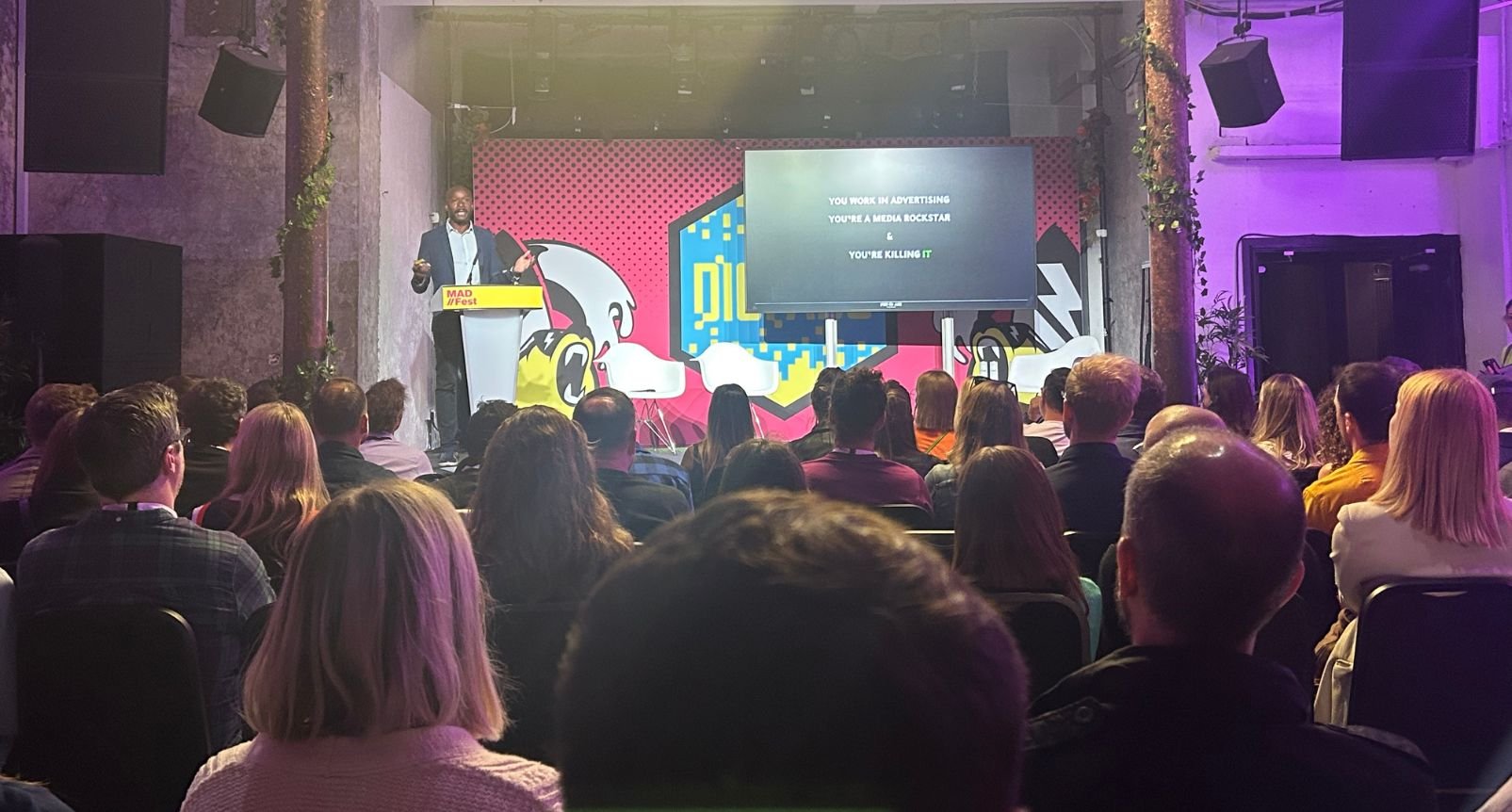 Dino Myers-Lamptey on the Responsible Media stage at MAD//Fest
A few standout sessions included 'How to dismantle an AI bomb' by Dino Myers-Lamptey, Head of Global Media at The Barber Shop, who spoke about the increasing use of AI and its potential to help us work out some of the industry's biggest problems that we have so far been unable to resolve, and a live recording of The Meaningful Media Podcast hosted by Ben Downing, Global Managing Director of Ethical Media + Strategic Partnerships at Havas, with Jake Dubbins, Founder of the Conscious Advertising Network; Laura Wade, Global Head of Sustainability Strategy, EssenceMediacom and Hannah Mirza, Founder, The Responsible Marketing Agency.
The half an hour discussion delved into a huge number of topics, including the creation of a guide by the WFA on reducing media greenhouse gas emissions, how we need to reinvent and reimagine what our industry stands for rather than replicating and carrying on working in the same ways that have led us to where we are today, the need to see the challenges that stand before us as exciting opportunities to take on rather than unsolvable issues that we continue to ignore, and the responsibility to create a better future for those that come after us.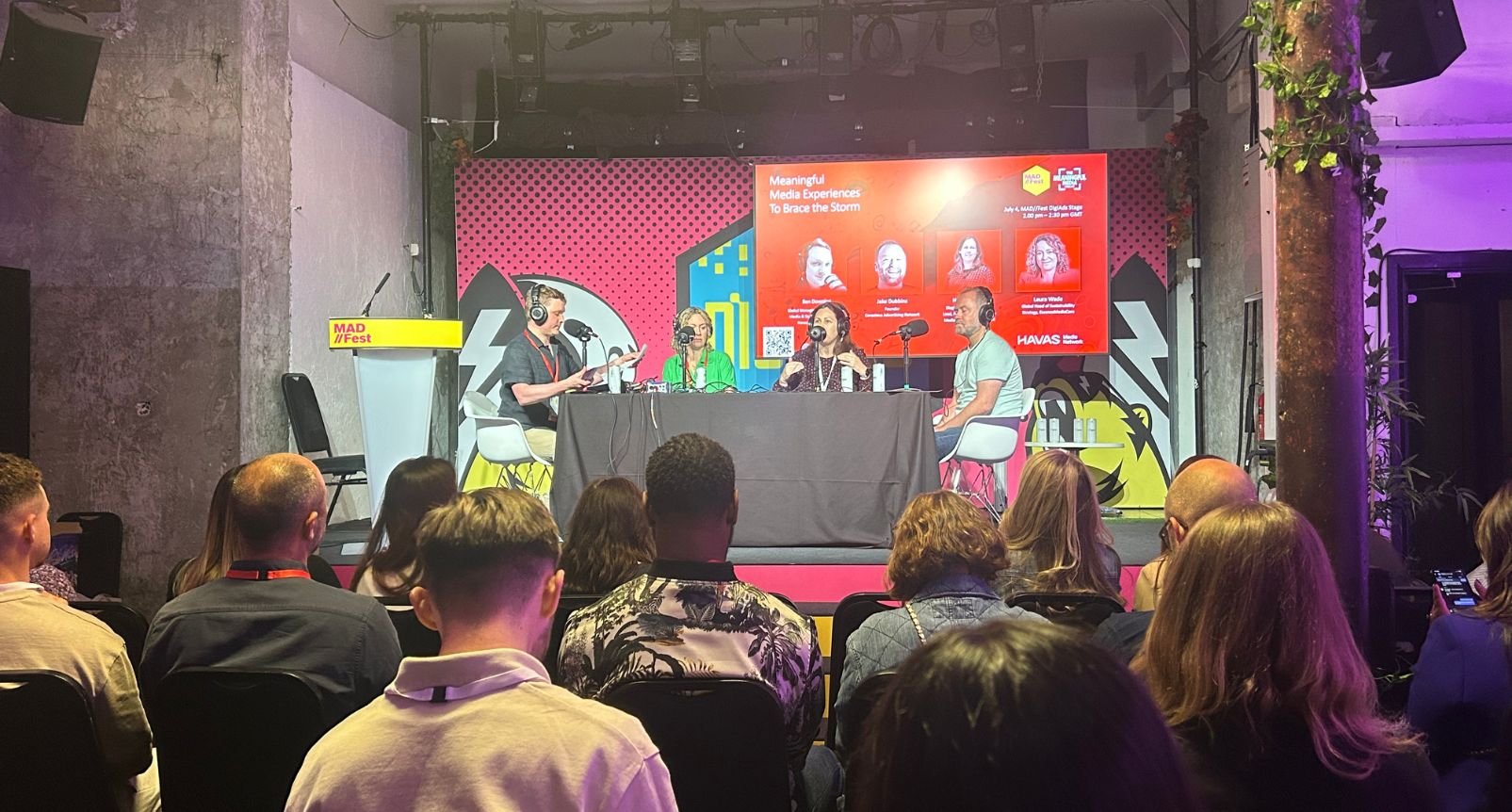 The Meaningful Media Podcast recorded live on the Responsible Media stage at MAD//Fest
A sense of responsibility swept across the room after a comment from Jake Dubbins of the Conscious Advertising Network, who said that we need to examine our consciences and one of the things that drives him personally is the idea of looking his kids in the eyes when they grow up and being able to answer their questions directly when they ask, "Dad, what did you do back when you still had a chance to change the course of our planet's history?" You can listen to the discussion in full here.
Looking ahead
Overall, it was great to see so many attendees engaged in discussions about responsible media and advertising's impact on the planet and our future and how they were not just reserved for a specific stage of the festival but infiltrated panels and presentations across the entire three days. With many of the globe's biggest brands and agencies continuing to put commitments and sustainability strategies in place, and as consumers' passion and belief in the need for change grows stronger, this area of advertising will only continue to grow in importance.
Team Anzu at MAD//Fest, (left to right) Caroline Manson, Marketing Director; Nick Woodford, Content Lead; Xenia Grounds, Digital Copywriter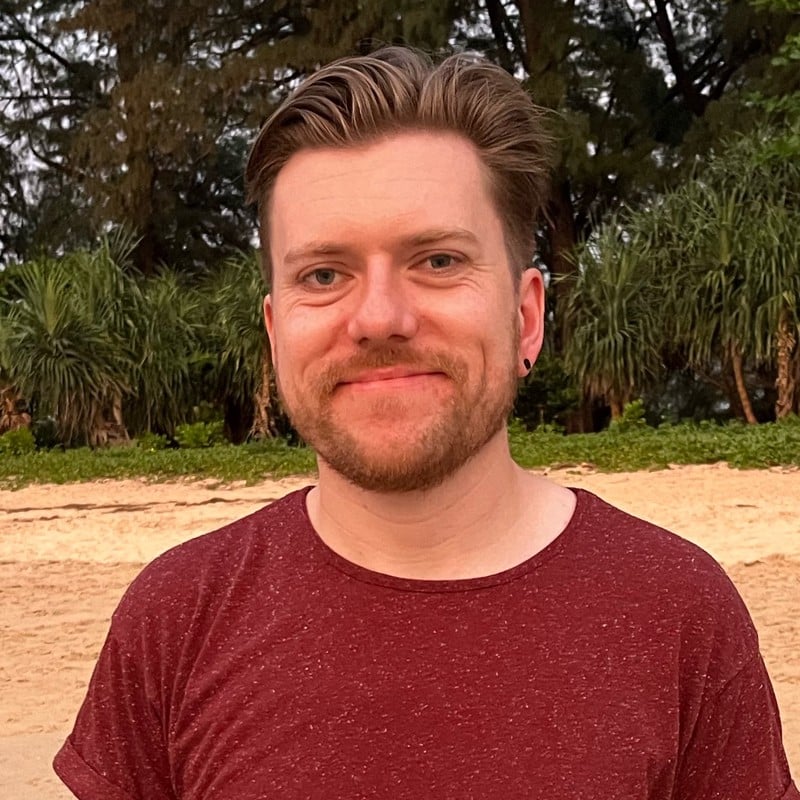 Nick works as Anzu's Content Lead, managing and overseeing the company's content strategy. As a gamer with a background working in AdTech, he has a unique perspective on the industry and the in-game advertising sector.
Nick Woodford
SIGN UP FOR OUR NEWSLETTER