>

From Runway To Gameplay: The Rise of Fashion in Gaming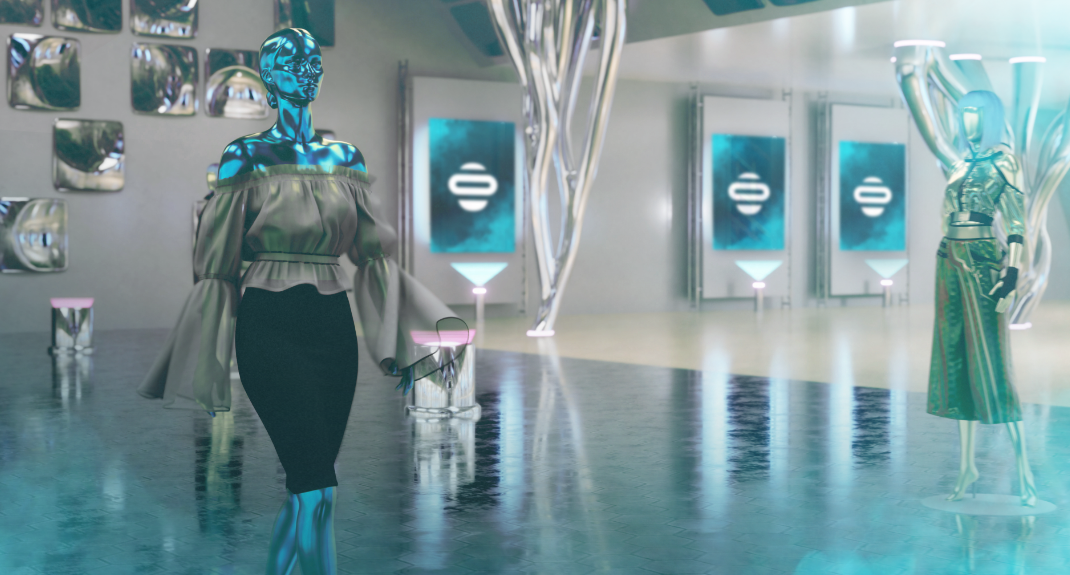 From Runway To Gameplay: The Rise of Fashion in Gaming
It's high time for high fashion in video games. Taking real-world fashion brands and adding them into games that people know and love, the worlds of gaming and fashion have collided in a big way — and fashion-conscious gamers are loving it.
World-famous fashion designers including Gucci, Prada, Louis Vuitton, and Moschino have all entered the world of virtual fashion through hugely popular game franchises, from The Sims and League of Legends to Roblox and other metaverse gaming platforms.
We take a look back over fashion's meteoric rise to fame within the video gaming landscape, and how fashion brands can stake their future advertising efforts in gaming and the metaverse for years to come.
Fashion brands in video games are not a new concept
Fashion and video games are not as separate as you might think at first glance. As the creation and advancements of character customization elements within games came about, players have used in-game fashions to adopt their own personalities within the games they play. It's by no means new.

Even as early as 2007, EA's The Sims 2 released the H&M Stuff Pack containing H&M branded clothing alongside the clothing lines they offered in physical stores, allowing players to dress their Sims as virtual versions of themselves. However, brands quickly found that creating a full standalone game or content pack not only proved costly and labor-intensive — it was also almost immediately outdated as fashion swiftly moved on to new trends.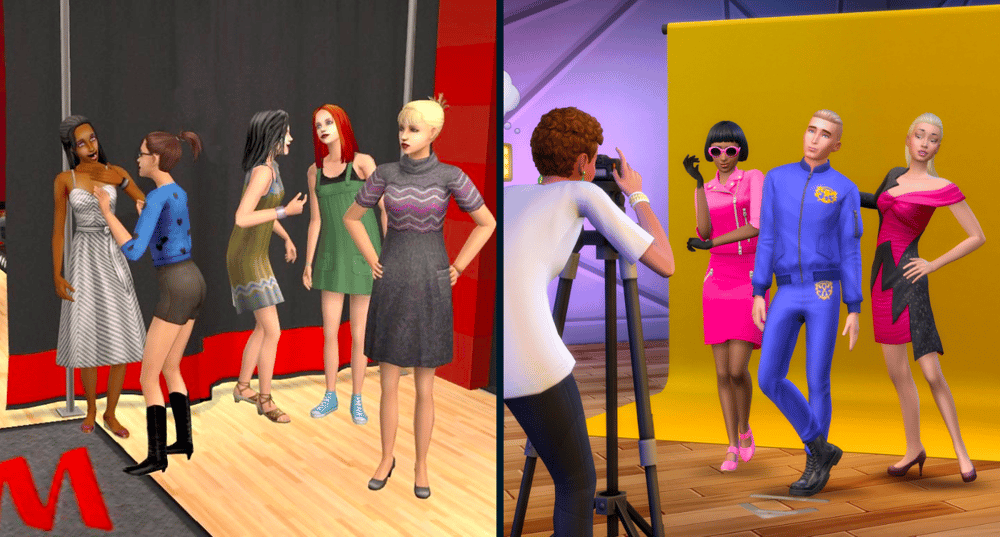 EA's The Sims franchise has been a long-time collaborator with popular fashion brands; from The Sims 2 H&M Stuff Pack in 2007, to The Sims 4 Moschino Stuff Pack in 2019. Source: Electronic Arts.
Today, The Sims franchise still works closely with the fashion industry, with The Sims 4 releasing a Stuff Pack for the high-fashion brand Moschino in 2019. Over time, however, many brands collaborated directly with game developers to integrate their brand into pre-existing games without the need to create their own content from scratch. Looking for ways to prominently feature their ads without disrupting the gameplay experience, and even enhancing the aesthetic and the realism of the game with real-world brands, fashion retailers turned to in-game advertising.
Why do fashion brands choose to advertise in-game?
Gaming has a worldwide audience of over 3.2B people, ranging from casual mobile gamers to die-hard PC and console players. Although gamers span across all ages, the vast majority of younger audiences use gaming as their main source of entertainment and socialization, often forgoing more traditional media like CTV and OOH.
As the globe introduced lockdowns during the coronavirus pandemic, fashion brands quickly had to think outside the box, away from the traditional 'shop window' out-of-home format that they were accustomed to, and into the realm of the digital world to reach audiences.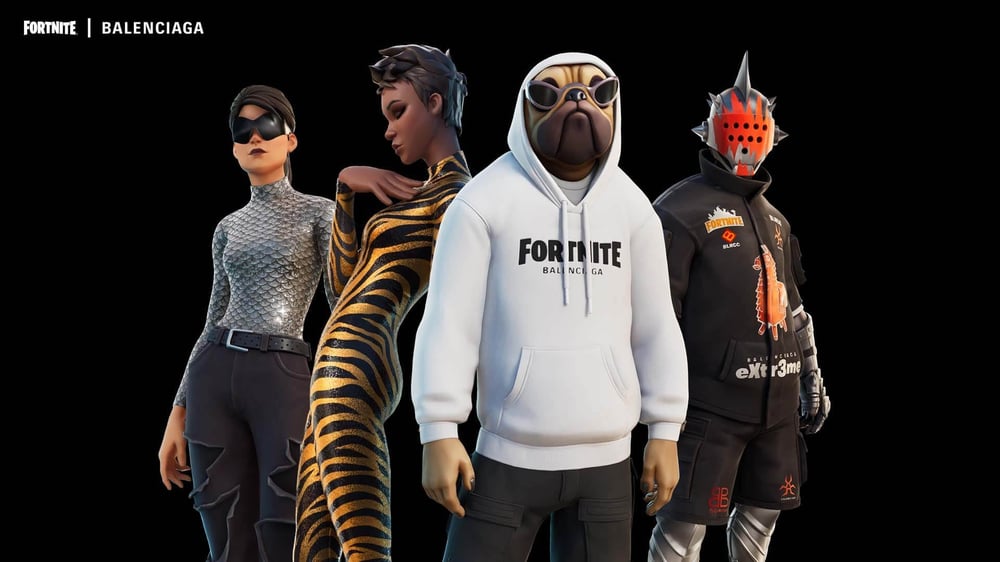 High-end fashion brand Balenciaga partnered with the popular battle royale game Fortnite to feature its clothing lines through special skins as in-game purchases. Source: Epic Games.
Reports also found that more fashion fans were getting into gaming, and in a big way. Anzu's research into US gamers found that 76% of them are following fashion brands and influencers, with 66% treating themselves to luxury branded products. Of all the US gamers surveyed, many proved to be luxury consumers, with 47% claiming to purchase Gucci, 43% Dior, and 29% Chanel.
We are also now seeing fashion brands work with gaming in smarter ways than ever before. Examples include Prada featuring their clothing in Ubisoft's exhilarating racing game Riders Republic, and Louis Vuitton gracing the MOBA main stage in League of Legends to over 117M monthly active players, making it the fourth most popular PC game of 2022.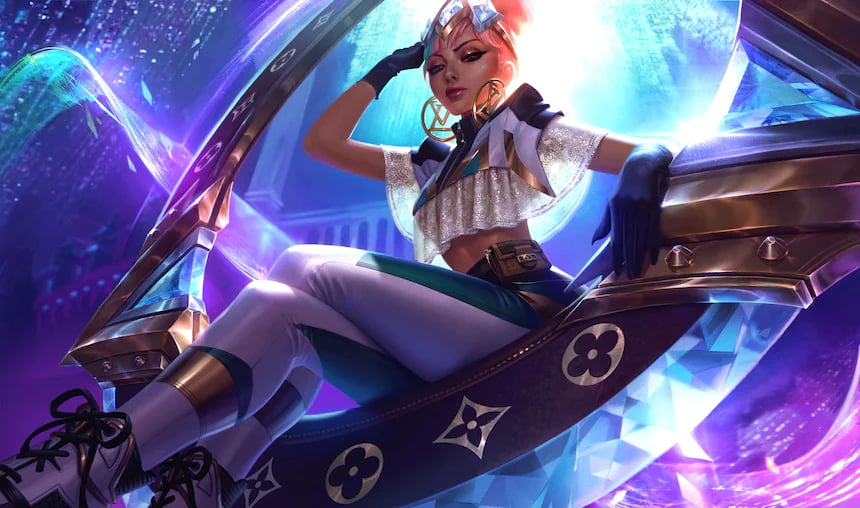 Louis Vuitton advertised its products through exclusive content with League of Legends, a popular MOBA with over 117M monthly active players and the 4th most popular PC game of 2022. Source: The Washington Post.
Another accelerant to fashion brands advertising in gaming was the rise of the metaverse, which allowed fashion houses from high-street to high-end to reach an enormous audience of socially-savvy gamers around the globe. Gucci famously revealed their Gucci Garden Experience in Roblox, a gaming metaverse platform boasting over 42.3 million daily active users worldwide, while American Eagle used the platform to set up its own AE Clubhouse and promote its 2022 Spring Collection in Livetopia, one of Roblox's top 10 experiences with well over 1.5 billion visits at the time of the campaign.
In-game ads: an open door for fashion brands
With the emergence and adoption of in-game advertising, fashion brands now have the flexibility of choosing games, genres, and audiences to appear to within intrinsic in-game ads — ad placements specially designed into the game environment — ​​ rather than limiting themselves to costly 'one-off' collaborations.
A recent success story comes from Levi's, the internationally-renowned denim clothing brand. Using Anzu's in-game ad solution across a multitude of exciting games from its inventory, the company was able to promote its 501 jeans brand range across both premium mobile and PC titles including massively popular games such as Trackmania, Tennis Clash, and Gravity Rider Zero.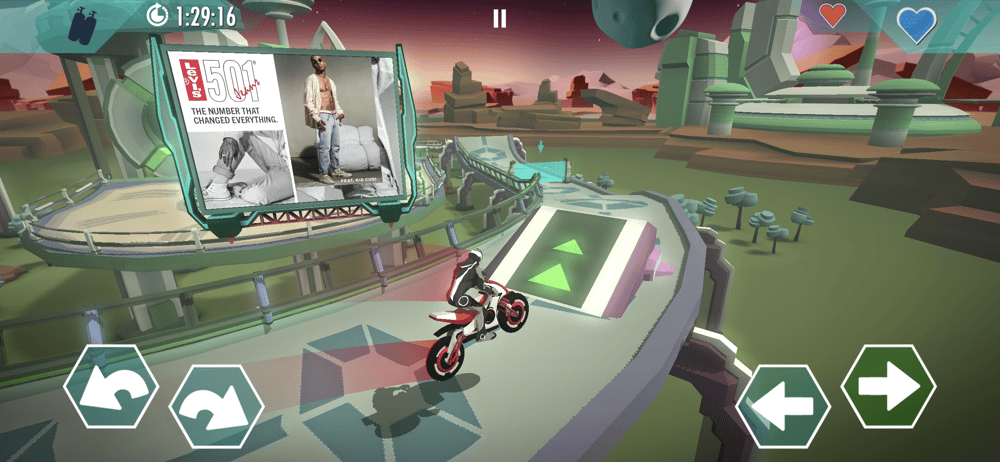 Levi's chose in-game ads to promote its 501 Jeans range across multiple popular games within Anzu's inventory, including Trackmania, Tennis Clash, and Gravity Rider Zero (pictured).
As a result, the brand saw a 6% increase in brand consideration, 16% increase in brand ad recall amongst premium jeans purchasers, and almost two-thirds of exposed gamers carried out an affirmative action upon seeing the ad in-game — whether it was visiting the Levi's website, or making a purchase in its online store. (Check out the full Levi's case study).
And Levi's isn't the only one. With more successful examples emerging from top fashion houses and retailers around the world, chances are we're likely to see more success stories as technologies and advertising strategies continue to improve.
High-fashion: a new home in the metaverse?
Anzu's proprietary research found that 3 in 5 gamers will be in the market for new fashion items within the next month, while a quarter of gamers surveyed in the US and UK are shopping for premium and luxury fashion.
While many people still find the metaverse difficult to define, let alone understand, one thing is for certain — it is becoming increasingly more popular, particularly with younger generations, and where gamers are spending more and more time. In the long-term, this makes these fashion-forward metaverse gamers ideal 'early consumers' for brands to reach and establish life-long consumer relationships with.
As not only gaming platforms like Roblox and Decentraland become more popular and available to developers, but also game development skills, Web3 and metaverse technology, and advertising demand grows, more fashion brands will find a new home on the virtual catwalk of gaming. In the future, the biggest names in fashion will not only be the ones gracing Paris, London, and Milan for Fashion Week — it will be the fashion brands who incorporate gaming into their ad strategies, showing up consistently where their audiences are, and engaging with them properly.
And in the world of advertising, there's no such thing as arriving 'fashionably late'. Don't let your marketing be left on the rack.
Ready to showcase your fashion brand across gaming and metaverse platforms? Contact us today.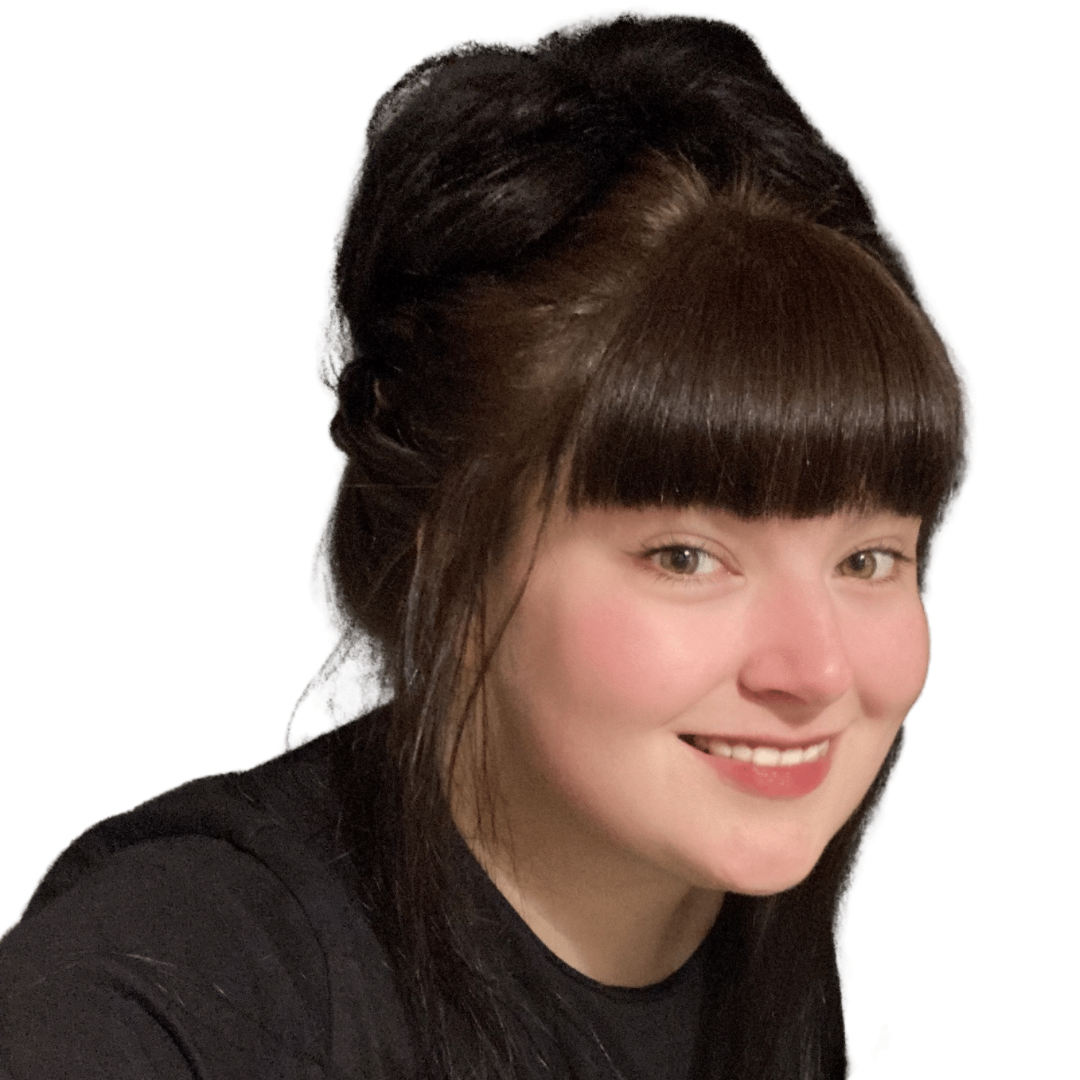 Kirsten is a copywriter with over 5 years of experience in marketing and social media for startups, agencies, and game development studios. As well as her passion for video games, Kirsten loves creative writing, board games, and quiz shows.
Kirsten Cresswell
SIGN UP FOR OUR NEWSLETTER