>

Highlights from IAB Tech Lab Summit: TRANSCEND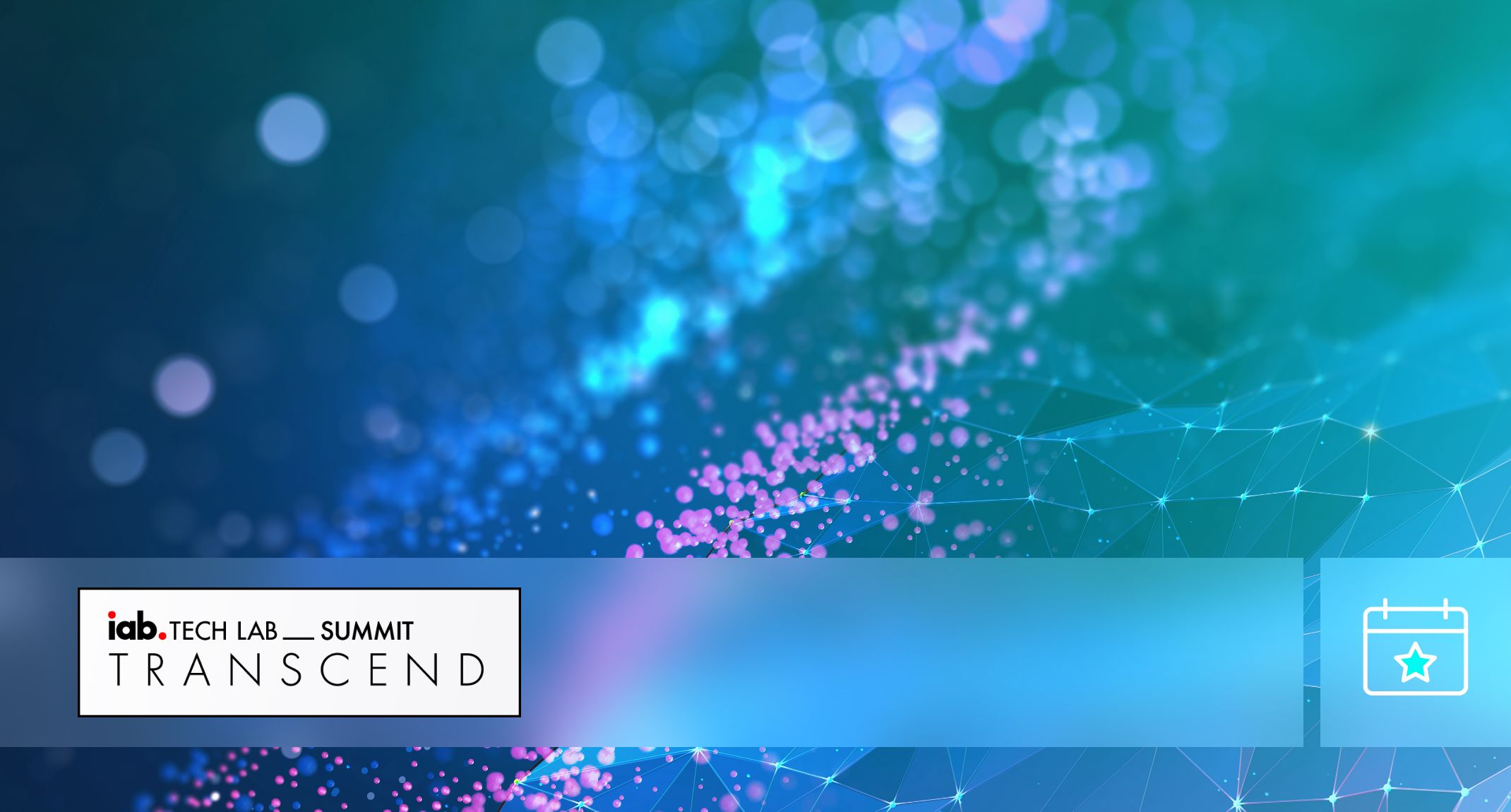 Highlights from IAB Tech Lab Summit: TRANSCEND
Who everyone is
Top 3 Takeaways
Here are a few teasers for what's to come in the new 2022 in-game measurement guidelines:
Ad angle

- in instances where the ad angle can be measured for X and Y coordinates, an ad angle no greater than 55 degrees on an absolute basis relative to the game screen is recommended for a viewable impression to be valid.

Screen coverage

- an in-game ad must have a minimum of 1.5% screen coverage to be considered viewable.

Occlusion

- ads that are occluded to the point where less than 50% of the creative is visible should not be counted for viewability.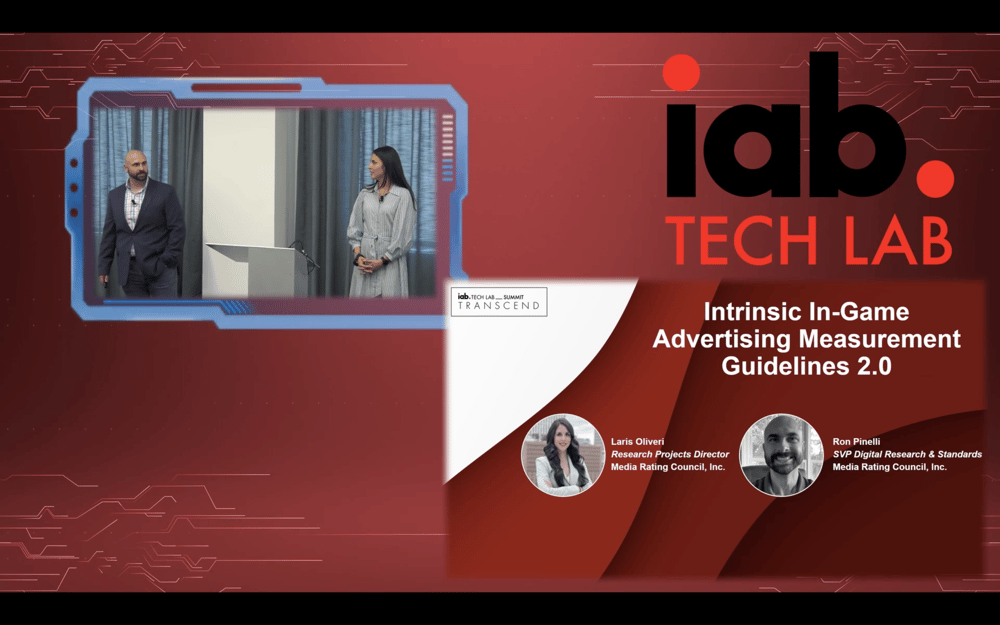 Why do we need new guidelines?
Gaming has changed a lot over the past 14 years. In 2009, the most popular game was Wii Sports! Now, generations later (in gaming terms!), with new games, platforms, consoles, and technologies, the MRC decided it was time to overhaul its game advertising measurement guidelines.

That's why the MRC's Experience Center board committee, which focuses on games, esports, and AR/VR, came together to develop new in-game measurement guidelines by popular demand from the MRC's vendors. Focusing on the significant new experiences, new platforms, and new solutions around in-game, the MRC felt that within the last months, this was the right time to update those standards.

The main objective of Anzu's segment with the IAB and MRC during the IAB Tech Lab Summit: TRANSCEND 2022 was to help the audience understand the changes to the MRC and IAB in-game measurement guidelines specifically around impression and viewability for blended in-game placements.

The presenter and host of the breakout, Angelina Eng, VP of Measurement Attribution within the Programmatic and Data Center at IAB, reminded the audience that in-game isn't just related to the standard banners and video ads found within games but also around "the experiential ads that are inside the game itself, where it's part of the user experience" – including in-game billboards, moving cars, and banners in the background.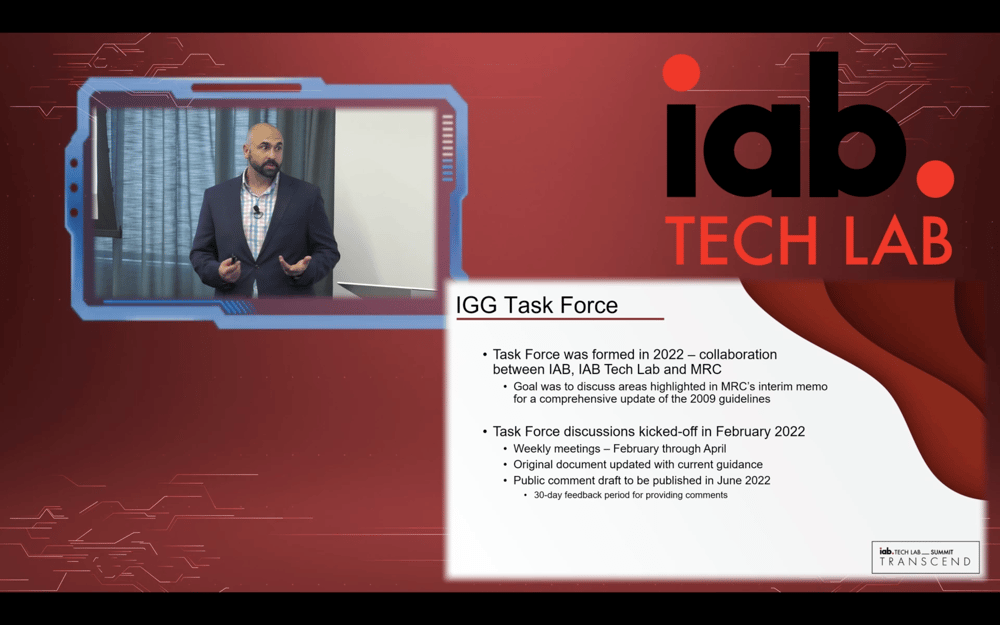 In-Game Guidelines: Out with the old, in with the new
To kick off the first segment of the presentation, Eng invited both Ron Pinelli, Senior Vice President of Digital Research and Standards at the MRC, and Laris Oliveri, the MRC's Research Project Director at MRC, up on stage to present some of those changes in the new in-game advertising measurement guidelines.

Pinelli expanded in more detail on why the standard needed to be updated, beginning with the first impression guidelines in 2005, co-authored by MRC and IAB, before moving on to the first in-game guidelines in 2009.

"As you can imagine, the in-game environment in 2009 was vastly different from what it is today, and the guidelines were very narrowly-focused - they were focused on PC gaming environments," Pinelli explained, "and a lot of the concepts we have today, like rendering of images and viewability measurement, weren't concepts when they were written in 2009."

Pinelli went on to say that the old definitions of counting an impression in the 2009 guidelines were "archaic" and "conflated", with much higher standards than any other impression requirements in digital media – requiring 10 seconds to count as an impression in gaming versus other media.

"But at the same time, when we wrote those guidelines, there wasn't a lot of interest in advertising and/or measurement in the in-game space," he continued. "That's changed a lot since then. It's a growing space, and there's a lot of interest in advertising and measurement." This resulted in the MRC issuing a memo in September 2021, stating three main messages:
The in-game guidelines needed updating
There was existing guidance written with the IAB since 2009, like begin-to-render impressions and invalid traffic requirements, that could be applied to in-game
MRC's viewability standard needed to be adapted to the in-game environment – "because this concept of accumulating 10 seconds for an impression in in-game was creating viewability conditions, and calculations that were unequal in in-game."
A new task force was assembled, including the MRC, IAB, and IAB Tech Lab, and a large group of vendors, advertisers, and agencies interested in the in-game space. Following weekly meetings during the next three months, the first draft of the document was released for a 30-day public comment on June 14, 2022. Ultimately, Pinelli said, the goal is for vendors to be audited and accredited for in-game viewability in the very near future.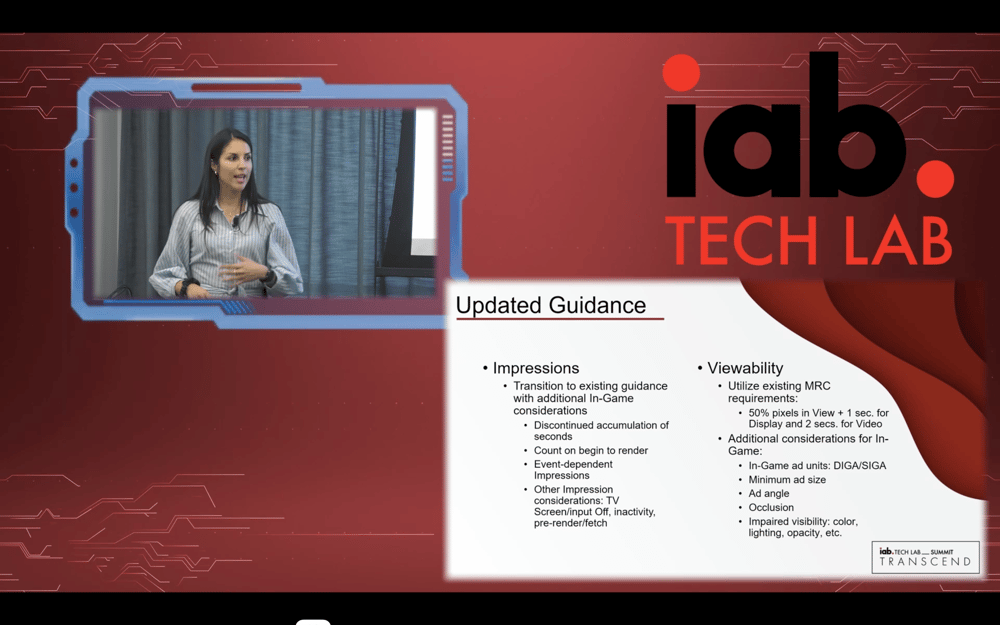 Sneak peek at the new in-game guidelines
Next on the podium, Laris Oliveri, Research Project Director at MRC, showed the audience a five-minute sneak peek at the new in-game guidelines.

"This starts with impressions," Oliveri began, stating that the original guidelines were issued before concepts like viewability were set up, and the previous way of measuring impressions was by an accumulation of seconds. "We've, of course, moved away from that, and we have aligned with our existing guidance for measuring impressions within a digital environment, which is that impressions need to be measured using client site signals, at minimum, when the ad has begun to render on a user's screen."

Oliveri confirmed that the new guidance for in-game has been adapted with considerations for measuring impressions within in-game environments, such as measuring event-dependent impressions - when an event needs to happen for an ad to be rendered - which may be present in in-game, as well as other impression measurement considerations borrowed from other platforms' guidelines including connected TV measurement. "Viewability probably took the longest time," she mentioned, "just because so many additional considerations need to be made when measuring viewability within in-game. We see a lot of dynamic 3D environments, which needs to be considered."

When looking at the new guidelines, Oliveri assured the audience that the base guidance for measuring viewability is that "at least 50% of the ad pixels need to be in view, at least for one second for display and two consecutive seconds for video". Other examples advertisers are bound to see in the new guidelines include setting a minimum ad size (at least 1.5% of the user screen), ad angle to the game screen (no more than 55° relative to the game screen if you're measuring the X and Y coordinates); occlusion (whether the ad is being occluded by an object or something else); and impaired visibility (such as a change in color, lighting, or opacity) that prevents players from identifying the brand in an in-game ad.

Oliveri finished by touching on IVT and how the MRC and IAB have brought the recent IVT Standards 2.0 guidance into the new in-game guidelines, adapting some IVT areas for in-game where relevant. For MRC accreditations specifically related to IVT, Oliveri confirmed that requirements "will be the same as with other digital accreditations where we're going to require measurement vendors to comply with general invalid traffic requirements".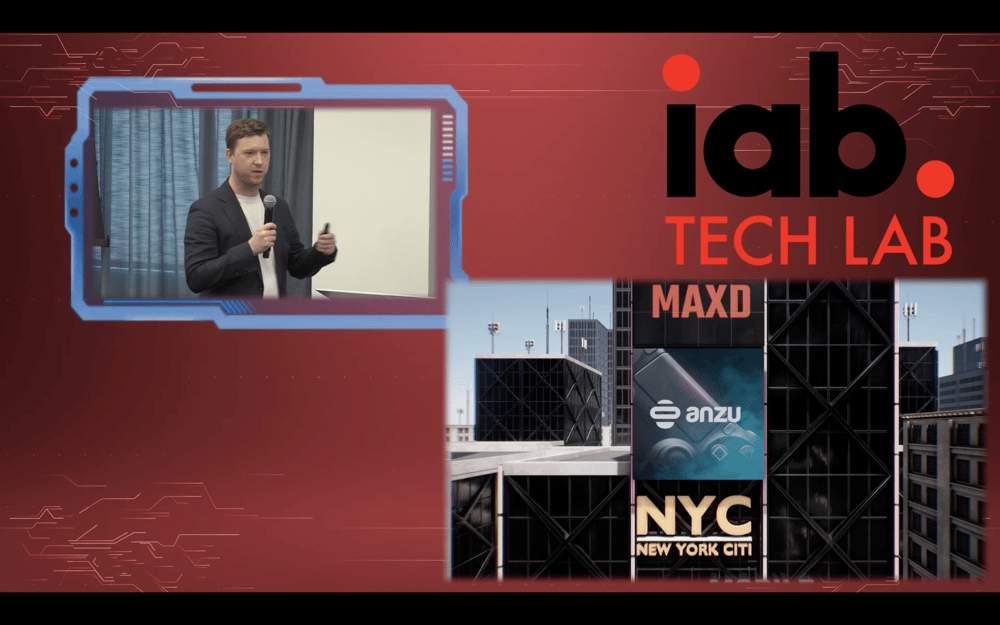 Live demo of the guidelines
In the final part of the afternoon session, Chris Keogh, Global Client Services Director at Anzu, took to the stage to demonstrate Anzu's ad measurement technology to the audience.
Ad angle
Keogh reminded the audience that gaming environments are 3D and fully dynamic, so the measurement solution must be prepared for all eventualities. Keogh showcased how the Anzu SDK passes back the data on angle, size, and placement as the camera and angles change – whether that's up and down or side-to-side – so that when ad angles are below 55°, it is classed as a viewable impression. "Above this angle, the legibility of the ad would be diminished," he explained, "and doesn't create a good user experience, so we wouldn't want to class that and sell that as a viewable impression."
Screen coverage
Moving onto screen coverage, Eng revealed that according to the new guidelines, an in-game ad must have a minimum of 1.5% screen coverage to be considered 'viewable'. She explained that this wasn't set in stone and was open to further vendor research and studies, especially for smaller screens like mobile devices.

"1.5% is always a funny metric because it sounds tiny," answered Keogh. "But when you see it on a screen, it's surprisingly big, like an optical illusion." He went on to say that gaming environments nowadays have so much draw distance that the technology is capable of that ads can be placed hundreds of meters in a fully-rendered version of New York, for example. Still, it was always a challenge to pinpoint an exact number for screen coverage.
Occlusion
"Occlusion represents an instance where the in-game ad is blocked from view either totally or partially during gameplay, and therefore the user's opportunity to see the creative is diminished," explained Eng. "This includes UI occlusion." She said that ads that are occluded to the point where less than 50% of the creative is visible should not be counted for viewability.

Keogh likened this to the 50% rule seen across programmatic display and social media but hinted that there was far more to it regarding the nuances of in-game. "There are lots more 3D objects within a game that can obscure an ad."

Keogh went on to show a demo of Anzu's real-time 3D ad tracking engine by showing a short clip of an in-game van moving across an ad on an in-game billboard. As the van obscured the ad, the object score went down, and so did the ad visibility. As the van moved away from the ad, the ad tracking engine recalibrated in real-time, continually telling the SDK whether or not that ad was being obscured and showing whether the ad would count as a viewable impression.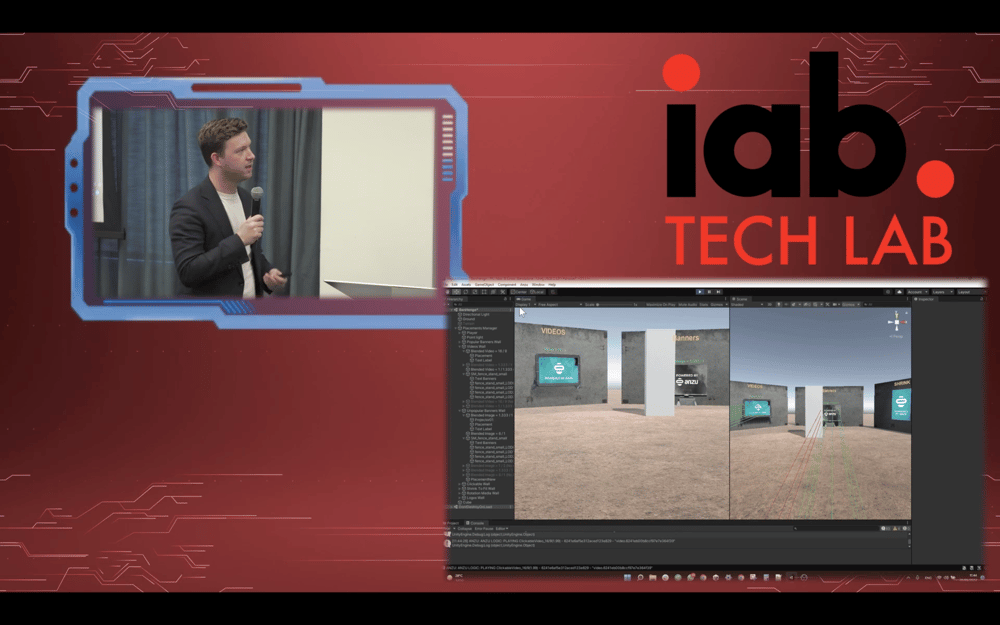 In-game measurement: things to watch out for
Impaired visibility consideration
Eng emphasized that visibility measurement in-game should consider different aspects often not seen in other mediums that could impair a creative's visibility. Examples include low lighting, opacity, background contrast, and moving particles that might create partial occlusions, such as fog or smoke effects.

Keogh went on to say that these additional considerations, as well as the 'hard metrics' included in the presentation, could also have the potential to create a negative user experience if not looked at properly. Ad coloration and strange lighting effects from the gaming engine impact the ad viewability but don't currently have any specific minimum thresholds for in-game ads.

Eng requested that the audience provide feedback from their companies on what they're seeing and shared that the IAB was relying on "really good sound logic" being created by the measurement organizations to assist with creating better guidelines and hard-defined rules around impaired visibility.
Dynamic environments
"In-game environments may be highly dynamic," started Eng, "where a user's movement within an in-game session may be at a speed that leads to certain signals or snapshots within a second to return a non-viewable state due to partial occlusions, while the opportunity to see that creative is materially continuous."

Keogh explained that PC gaming today often can have up to 500 frames per second (FPS), so a lot of potential occlusion may occur that would be hardly noticeable in real-time without affecting the visibility and legibility of the creative. Using another demo from Anzu's ad measurement engine and ray-casting capabilities, he reminded the audience that "we have to keep up with the tech as the tech develops".

Keogh finished by saying that. "Anzu's mission is to reach every gamer globally across whatever platform, device, and game engine they happen to be playing across. These guidelines are essential steps for us to ensure that measurement is as unique and as reflective of the sophisticated and varied engines that are out there."
SIGN UP FOR OUR NEWSLETTER